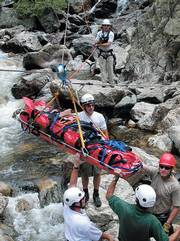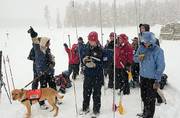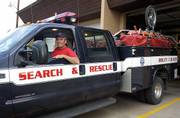 If you go
What: 11th annual Routt County Search and Rescue fundraiser
When: 5:30 to 10 p.m. Sept. 26
Where: Bear River Bar and Grill in Gondola Square
Cost: $10 in advance or $15 at the door. Children 5 and younger are free. Tickets are available from any member.
There's more: Food, door prizes, live entertainment and a silent auction
Steamboat Springs — The SUV is packed, so is the extended cab truck. The ATVs used to access remote, rugged areas are parked on the trailer bed.
The Routt County Search and Rescue gear is ready to go. If an emergency call comes today, the organization's volunteer members are one page away from gathering at the "barn" on Yampa Street.
"I think it's quite an honor to help the community in a way that's so important," Search and Rescue volunteer Tim O'Brien said. "A person doesn't need an exact skill to be involved. Maybe you are good at computers. Maybe you are good at snowmobiling. Maybe you are a good skier. There are so many avenues."'
The annual Routt County Search and Rescue fundraiser is approaching. The evening is a chance for volunteers to talk more about what they do and seek new members, but it also is a chance for people to financially support an organization that offers its services free of charge.
In several parts of the country, victims are billed for search and rescue missions.
Routt County's Search and Rescue is one of 80 international organizations to receive the prestigious Mountain Rescue Association recognition. By and large, RMC teams don't want to charge for missions, Routt County Search and Rescue president Randall Hannaway said.
The county's Search and Rescue team is fully reimbursed for missions if the individual or group they find or recover has contributed to the Department of Local Affairs fund. People contribute to that fund by buying a hunting or fishing license or registering an ATV, snowmobile or boat.
People also contribute to that fund by purchasing a Search and Rescue card that will be available at the Sept. 26 fundraiser. Those cards are $12 for five years and $3 for one year. The wide array of people who help contribute to the DOLA fund is appropriate because Search and Rescue helps all sorts of outdoor users.
Search and Rescue typically is dispatched to 60 to 65 searches or rescues annually, and its budget is about $80,000 a year.
"It's a pretty level playing field who we end up rescuing, and certainly we rescue a great number of locals and out-of-state visitors," Hannaway said. "Even in the very best of circumstances, bad things happen to good people. I've seen it too many times."
Search and Rescue is raising funds to purchase a mobile communication vehicle to benefit city and county departments, in addition to Search and Rescue. The vehicle is estimated to cost $250,000, and it would allow communications to be up and running in any circumstance.