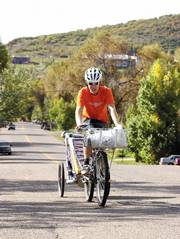 Steamboat Springs — City officials will soon begin advertising for a part-time staff member who will work toward making Steamboat Springs more bicycle-friendly.
City Transportation Director George Krawzoff said this week that he has received "the go-ahead" from the Steamboat Springs City Council to create a contractual position and hire an employee.
The employee will take on tasks including taking inventory of bike racks and storage units in Steamboat; conducting outreach to local businesses and schools to increase bicycle use by employees and students; working with law enforcement agencies to chart the rates and history of bicycle-related accidents; and working with city public works officials and engineers to create plans for bicycle lanes on city streets.
"It requires a greater focus than I'm able to give to it," said Krawzoff, a former bicycle racer with a riding club in Aspen. "This would be a labor of love for me, but the problem is that between the (city) transit, (Steamboat Springs) airport and parking, I run out of time."
Finding time to make local cycling improvements has been a problem for at least a year. In April 2005, the City Council approved a resolution to increase bicycle-friendly features in Steamboat Springs, but action on the resolution stalled because of a lack of community commitment.
"The Routt County Riders are very supportive, but nobody has had time to do this as a volunteer," said Krawzoff, referring to a local bicycling club.
Nearly 30 cycling enthusiasts, including many members of Routt County Riders, attended a City Council meeting Tuesday night to show support for the 2005 resolution.
"We need action on this now," said Robin Craigen, vice president of the riding club, citing a need for bike lanes to provide safety for children on the way to local schools.
Craigen told the council he has a petition with 320 signatures of people in support of increasing amenities for local cyclists.
Diane Mitsch Bush, vice chairwoman of the Routt County Planning Commission and a candidate for a Routt County commissioner seat, also expressed support for encouraging people to ride bikes.
"This is not an expense as a budget item, rather it is an investment in our tourism economy and more importantly, in our quality of life," she said.
Krawzoff said he hopes to make a supplemental budget request to fund the new, contractual position rather than taking the longer route of including the position in next year's city budget.
"We'd hate to wait until January, because we have some momentum here," Krawzoff said. "But we are government, so we do have some I's to dot and T's to cross before we advertise for the position."