By the numbers
2,257
Number of parking spaces in downtown Steamboat, including private lots
1,126
Number of legal parking spaces open to the general public
703
Number of two-hour spaces
11
Number of 15-minute spaces
1,422
Number of parking tickets issued by the city in 2006, as of July
$42,850
Revenue to the city from those parking tickets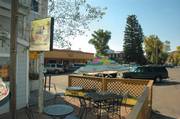 Steamboat Springs — A parking garage in downtown Steamboat Springs is likely in the city's future.
But not the near future. Although the Steamboat Springs City Council has directed City Manager Alan Lanning to study the possibility of a downtown parking garage, city Director of Transportation George Krawzoff acknowledged that the study may be low on Lanning's priority list.
"The city manager has a lot of things to do," Krawzoff said. "I don't think we'll be breaking ground next summer."
The parking garage issue was raised during Tuesday night's City Council meeting, when Krawzoff presented an update of the downtown parking plan.
Included in Krawzoff's update was data from a 1999 study, which stated that more than 2,500 employees work in downtown Steamboat. There are 2,257 parking spaces downtown, but of those, only about half are legally available to the public.
Given those statistics and the potential for growth downtown - several approved, mixed-use development projects are awaiting construction - council member Towny Anderson said a parking garage will be a necessity in coming years. Planning, he said, should start now.
"I think we need to make this a highest priority," Anderson said.
Krawzoff said the optimal location for a downtown parking garage would be on part of the city block between Eight and Ninth streets, facing Oak Street to the north and the alley between Oak Street and Lincoln Avenue to the south.
That location is now home to the Epicurean and the Mister Money USA plaza.
Krawzoff said owners of both businesses are aware of the potential for a parking garage on the land, which the city would have to purchase.
The last parking update was in May 2005. On Tuesday, the council approved several recommendations from a parking focus group led by Krawzoff.
The recommendations include continuing to fund a full-time parking enforcement officer, directing Lanning to study the feasibility of a parking garage, and not moving forward with paid parking downtown at this time.
Krawzoff was a consultant for the city of Aspen when that city implemented a paid parking system, which he said has proven successful for the city despite initial public protest.
"The pressure that people will place on their elected officials and city staff, in opposition to paid parking, will be significant, no matter how successful the program is," Krawzoff said. "I can't imagine moving forward with it at this time."