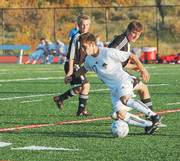 Steamboat Springs — Steamboat Springs soccer coach Rob Bohlmann has been preaching this season for his offense to play a more unpredictable game. Coming out with a polished attack that put them up 3-0 with two minutes left in the first half of their Tuesday night game against Eagle Valley, no one would have predicted the Sailors would give up three unanswered goals to finish the game in a 3-3 overtime draw.
"The first half was textbook. We worked well as a unit," Steamboat senior David Comeau said. "The second half, it was there. We just had a couple breakdowns in the back, and they capitalized on their only chances."
The Sailors controlled the ball well in the first half, scoring first at 28 minutes on what has become a high percentage look - Nick Labor's cross from the right corner finding Sam Houston's head in the middle.
Up 1-0, with six minutes in the half, Sailors goalie Eric Carlson snatched up an Eagle Valley pass across the middle and punted the ball directly to Sailors strikers where, after a defensive deflection, Miguel Lomeli blasted a shot in from nearly 20 yards out.
Four minutes later, Lomeli struck again, hitting in an easy rebound from a Sam Houston shot off Eagle Valley goalie Trevor Grayson.
Just before halftime, Eagle Valley answered as Cesar Castillo dribbled into two Sailors fullbacks, turning the ball over to Omar Vasquez, who buried a low shot by Carlson.
Eight minutes into the second half, Eagle Valley's Gonzalo Gomez lofted in a high shot, and with 7:55 in the game, Vasquez found another seam in the defense, heading in a loose ball and cashing in on the Devils' seven shots on goal.
With the game tied at 3-3, Steamboat had plenty of second-half opportunities in the offensive end, but failed to find quality shots, allowing Grayson to tally eight saves.
"The second half was decent, but as the game went on, players tried to get it done individually rather than playing as a unit," Bohlmann said.
In the two five-minute overtime periods, Steamboat continued to miss opportunities. Grayson made a key save on a Comeau shot and Lomeli's last-second bicycle kick bounced off the football uprights, ending the game, 3-3.
"What a fight, what a game," said Eagle Valley coach Chad Sloniker, calling the tie a team-unifying game as his players celebrated on the sidelines.
Watching the opposition cheer, Comeau spoke for his frustrated teammates when he said that things just "didn't add up," and that the game felt more like a loss.
Bohlmann agreed with Sloniker that the tie points to how tight the teams are in the Western Slope League this year, but he wasn't as dejected as his players.
"We're fine," Bohlmann said. "We didn't play poorly, the discipline lacked in the end of the game there. : All in all, we were much improved from last Saturday."
Steamboat's next game is at 11 a.m. Saturday in Glenwood Springs.
- To reach Dave Shively, call 871-4253 or e-mail dshively@steamboatpilot.com