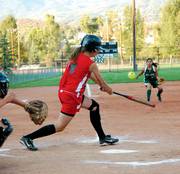 Steamboat Springs — When the Steamboat Springs softball team took the field Tuesday, coach Donna Ryan already was trying to balance her lineup.
Because of a pre-game ankle injury to starting catcher Mataya Flaharty, Ryan had to shuffle players into positions they had never played. Christie Fielding played catcher for the first time, and Darcy Hornstein was inserted at shortstop, also for the first time.
Still, the Sailors put up a valiant effort against league foe Delta.
Despite losing both games of the doubleheader - 15-3 and 19-6 - Ryan said she was extremely happy with the way her team played.
"They are definitely getting better," said Ryan, who started three outfielders who have never played before this year. "We have really good team chemistry."
The scores weren't indicative of how well the Sailors played. In the first game, the Sailors battled back and forth with Delta and trailed only 1-0 after two innings. In the third inning, Delta broke out for 11 runs, and the Sailors couldn't catch up. Leigh Thielen finished 2-2 while Hornstein, Priska Sorensen and Sasha Otero each had a hit in the first game.
In the second game, Steamboat was trailing 8-6 going into the bottom of the third inning when Delta put a 10 spot on the board. The highlight in Steamboat's four-run third inning came when Hornstein had a two-run double.
"So far, we have a bunch of new girls," Fielding said. "They've learned everything and stayed calm under pressure. We've already come so far."
It's big innings like Tuesday night's that are keeping the Sailors from getting their first win of the year, Ryan said. On Saturday, at the Eagle Valley tournament, Steamboat held leads in both of its games going into the last inning. In both, they came away with losses.
"It's just that one big inning," Ryan said. "Teams just get that one big inning."
Nevertheless, she said, the marked improvement from the beginning of the year makes her believe the team is on the cusp of breaking through in the win column.
"Huge," she said of her team's progress. "It's like going from zero to 50. Now we need to go from 50 to 100."
-To reach Luke Graham, call 871-4229 or e-mail lgraham@steamboatpilot.com