If you go
What: 19th annual Rubber Ducky Race
Where: Fifth Street Bridge to 13th Street Bridge on the Yampa River
When: 10 a.m. Saturday
Cost: $10 a duck
Call: Mindy Fontaine at 870-1146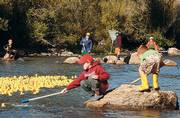 Steamboat Springs — Yellow rubber duckies will take the place of kayakers and tubers on the Yampa River on Saturday for the 19th annual Rubber Ducky Race.
The Rubber Ducky Race benefits the Yampa Valley Medical Center Auxiliary. This year, the auxiliary, which organizes the event, is pledging all proceeds to the hospital's Obstetrics Department and the Family Waiting Area.
Children and adults are encouraged to bring hockey sticks, ski poles or whatever else they can use to push their numbered duckies toward the finish line. The winner gets a season pass to the Steamboat Ski Area, and many other prizes will be awarded.
The cost to enter the race is $10 per ducky. Participants can purchase as many ducks as they want. Souvenir ducks will be available for $5 on Saturday near the Fifth Street Bridge. This year's duck theme is "doctor/nurse."
Kathy Ulmer, race chairwoman and event organizer, said the best part of the race is watching the community come together to support the hospital.
"Everyone lights up for this event. It's great to see everyone come together and watch their duck go down the river," she said.
Even those who don't want to purchase a duck are invited to come and watch the spectacle of thousands of ducks floating down the river, she said.
"It's a hoot. It really is fun to watch all those ducks get dumped into the river and watch them get chased along by the Boy Scouts," she said.
Ulmer said there are more than 100 prizes to be given away this year, including the season ski pass for the grand prize winner, spa packages, restaurant and retail gift certificates, golf packages, clothing and a weeklong stay at the Steamboat Grand Resort Hotel.
Although prizes are a huge incentive to get people involved in the event, the most important component is raising money for the hospital, Ulmer said.
"The nice thing about the Rubber Ducky (Race) is that it benefits the hospital. You never know when you or your family are going to need to use the facilities there," she said.
Mindy Fontaine, spokeswoman for the hospital, said organizers hope to raise more than $23,000 this year. The event raised $23,000 last year and $22,000 in 2004.
This year's proceeds will help the Obstetrics Department purchase new equipment and "revamp" the hospital's Family Waiting Area, Ulmer said.
On Tuesday, nearly 12,000 tickets had been sold for the race, Fontaine said.
Tickets are available today, Thursday and Friday at City Market, Safeway and Yampa Valley Medical Center. Tickets for the race also will be available at the Fifth Street Bridge on Saturday.
"This is one of our favorite events all year. It's such a wonderful family event," Fontaine said.
- To reach Alexis DeLaCruz, call 871-4234 or e-mail adelacruz@steamboatpilot.com