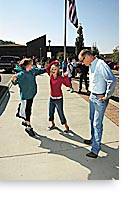 Steamboat Springs — A power outage forced the closure of Steamboat Springs Middle School on Monday morning.
A lightning strike, either at the school or on the power grid, was the suspected cause of the outage, Steamboat Springs School District facilities director Rick Denney said.
A strong electrical storm moved through the area Saturday night, causing power surges on the west end of town and downed electrical lines along Routt County Road 129.
The middle school's power outage likely was caused by that storm. Denney suspected the middle school's power went out Saturday night or Sunday morning because the school's generator had run out of fuel, and the cafeteria's ice cream supply had melted.
Power was restored at 11 a.m.
Denney said parts would have to be replaced. Destroyed surge protectors that burned out when power was restored Monday also will have to be replaced, but they did their job protecting the middle school's large machines, Principal Tim Bishop said.
Monday was the first time the middle school was forced to close in Bishop's eight years as middle school principal. The day will not have to be made up.
Once Bishop and Superintendent Donna Howell were told workers did not know the cause of the problem, and it could take all day to restore power, the pair decided to start sending home students who could make arrangements.
"My fear was for students' safety," said Bishop, who cited dark bathrooms, hallways and interior classrooms as potential danger zones. "It was spur of the moment, but we had every classroom teacher speak personally to every parent or guardian with a child in the school."
The phone lines and alarm systems also were down, creating further problems.
"Every single student was accounted for before they were allowed to leave," Bishop said. "We obviously didn't have this planned. I'm amazed at how quickly and efficiently we had cleared the building."
Those students without permission to leave worked with teachers on a variety of projects, Bishop said.
Soda Creek and Strawberry Park elementary schools and Steamboat Springs High School held classes Monday. Strawberry Park did not have computer access in the morning, and district buildings did not have phone access Monday morning because the district phone lines originate from the middle school.
There were no other power outages, Howell said.