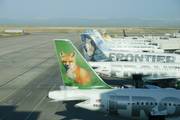 Steamboat Springs — Talks are ongoing between the Steamboat Ski and Resort Corp. and Frontier Airlines about expanding the low-cost airline's service to the Yampa Valley.
"There is a lot of interest and intrigue," said Andy Wirth, Ski Corp. vice president of marketing. "I think it's highly likely that our resort will be participating in some form as a destination for Frontier."
Wirth said he met with Frontier CEO Jeff Potter and his senior staff and the discussions are ongoing.
"We have a ways to go, but we had what I would say are very, very encouraging discussions with Frontier," Wirth said.
Frontier announced last week that it was expanding its Denver-based fleet by purchasing 10 new 74-passsenger turbo-prop planes for regional service to Rocky Mountain destinations. The airline plans to start offering the service within a year and all the planes should be in service by December 2007.
The company has not yet announced the new destinations, but said as many as 18 destinations up to 650 miles away from Denver would be served.
Wirth said Frontier's plans are still in the initial phases, but discussion between Ski Corp. and the airline have been "energetic and fast-moving."
Mike Boyd, an aviation analyst with The Boyd Group of Evergreen, said Thursday that Frontier will target communities with people who will fill the airplane seats year-round.
He specifically mentioned that communities like Aspen, Eagle, Durango and Jackson Hole, Wyo., will be attractive to Frontier.
Wirth said he thinks there is sufficient demand for additional capacity out of YVRA.
"By introducing a second competitor on a year-round service, it helps us meet a number of our strategic objectives," he said.
Frontier was one of YVRA's original commercial airlines, but the company stopped service in the 1980s. Today, the airline flies to 57 destinations in the U.S., Canada and Mexico out of Denver International Airport. Offering regional service is a competitive move by Frontier and is a response to Southwest resuming service out of DIA last January, Boyd said.
Frontier also has about 40 Denver-based destinations in common with United. United currently has four daily flights out of YVRA to Denver on 37-passenger planes.
Wirth said Frontier is a "solid agency" held in very high regard and a year-round flight to Denver on Frontier would provide new links to Steamboat, and Ski Corp. could target new markets.
"They fly to some great destinations in Florida and we know that's a good market," Wirth said.