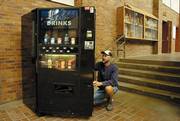 Steamboat Springs — The days of Steamboat Springs students cracking open a Mountain Dew in school will soon be over.
Within the next 30 days, bottled water, sports drinks, low-calorie juice drinks, teas and diet soda will be the only available beverages in the Steamboat Springs High School vending machines.
Water and 100-percent juices will be the only for-sale beverages available to elementary and middle school students.
"The goal is not to give the students juice flavored beverages with sugar in them," said Teresa Wise, the nutrition services director for the Steamboat Springs School District. "We are trying to get the most pack for the punch."
Soda and fruit-flavored juices are considered "empty calories" because they lack nutritional value.
Pepsi, Coca-Cola, Cadbury Schweppes and the American Beverage Association are committed to helping students learn the importance of balancing calories consumed with calories burned, Wise said.
The change in direction ties into federal laws prohibiting the sale of carbonated beverages during breakfast and lunch in schools that receive government funding for school meal programs.
Steamboat is a client of Pepsi, so the district will follow the company's initiatives, as well as the direction given in the district's School Wellness Policy.
"We aren't eliminating vending machines," Wise said. "They will only contain items Pepsi is allowed to sell like Gatorade, Aquafina, diet soda and tea."
Wise, who is in her first year with the district, came to Steamboat from Illinois, where similar guidelines already are in place.
"Each state decides what they want to do in addition (to federal regulations)," she said.
- To reach Melinda Mawdsley, call 871-4208 or e-mail mmawdsley@steamboatpilot.com