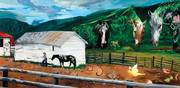 Steamboat Springs — The volunteers at Humble Ranch Education and Therapy Center say they receive as much as they give by working there.
"The one thing I've learned from working with horses is that they are so intuitive," said Cheri Trousil, executive director of Humble Ranch. "They help me reconnect with that side of myself we tend to lose in the fast-paced world."
Seventy-five people volunteered at Humble Ranch this summer, and they make up 90 percent of the ranch's manpower. At the ranch's sixth annual fundraiser Saturday, those volunteers and supporters will be honored for their service and compassion.
"It takes a special person willing to give of their time and energy to work closely with the clients," Trousil said. "And we will also be honoring our therapy horses, because they are the true therapists out here."
Humble Ranch has lost four of its horses this year. Buster, Jan, Rev and Little Buck provided patience and guidance to children and other individuals with special needs.
"Every horse is a huge, powerful animal that at any given moment can be in charge of us, but they choose not to," Trousil said. "Their willingness to do what was asked of them each day and each time a child arrives is amazing."
The horses can intuitively meet the children where they are at, whether they are scared or feeling playful.
"The children and horses have a special relationship because our clients don't come with an agenda," Trousil said. "They come with an open heart and an open mind, and the horse meets them right there."
The fundraiser will celebrate the human-animal collaboration with live country music by Gib Manzanares, a barbecue catered by Marnos Custom Catering and hayrides for the children. Two featured artists have donated artwork to the event. The art memorializes the horses that have passed away.
Painter Michelle Ideus spent time at Humble Ranch this summer immersing herself in the energy of the work that's done there. She has captured the essence of those efforts and portrayed the horses in an original painting that will be sold during the fundraiser's live auction. Prints of the painting will be available in the silent auction.
Jeff Wolf donated a sculpture of a horse that represents the ones Humble Ranch has lost. He worked with horses his entire life and believes that studying them and their anatomy is crucial to being able to capture the spirit of the majestic creatures.
"You have to study how they move," Wolf said. "Without correct movement, it is impossible to bring out the expression and motion that you try to create in your work."
Wolf has sculpted all the different aspects of horses in his career because of what they characterize to him.
"It is the freedom that they represent and the love and emotion they bring and provide us with," he said. "They are like family."