If you go
What: Ranch Rendezvous Day
When: Saturday, 10 a.m. to 2:30 p.m.
Where: Base of Steamboat Ski Area
Contact: For more info, call Marsha Daughenbaugh of the Community Agriculture Alliance at 879-4370
Ranch tour
A Heritage Ranch Tour in the Pleasant Valley area from 12:45 p.m. to 4 p.m. is Saturday. Pick-up and drop-off is at the ski area's Lower Gondola parking lot. The cost is $50 for adults, $10 for children ages 7 to 12 and free for children 6 and younger. The cost includes transportation, guides, informational materials and Routt-Beer Floats.
Call 879-0740 for reservations, or Arianthe Stettner, executive director of Historic Routt County, at 875-1305 for more information.
Legacy funds approved
The Steamboat Springs City Council on Tuesday approved an additional $37,000 in funding to complete restorations at the Legacy Ranch, a historical 120-acre site on the west side of U.S. Highway 40, near the intersection with Colo. Hwy. 131. The total cost of the restoration is $237,000. The two-year project includes renovations to a ranch house and bunkhouse on the city-owned property, most of which is a regularly harvested hay meadow. A trail on the site will facilitate public access to the Legacy Ranch, which will likely begin within a year.
"It's a real jewel of a historic preservation project," said Linda Kakela, city director of intergovernmental services.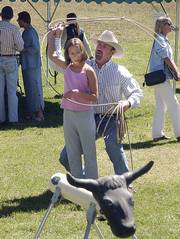 Steamboat Springs — Despite challenges such as rising land costs and a recent shortage of diesel fuel, ranching in the Yampa Valley is alive and well.
The fourth annual Ranch Rendezvous Day is intended to spread and celebrate that message, said Marsha Daughenbaugh of the Community Agriculture Alliance. Ranch Rendezvous Day is Saturday at the base of Steamboat Ski Area
"Agriculture is still a very viable industry in Routt County," Daughenbaugh said Wednesday.
In previous years, Ranch Rendezvous Day has drawn crowds of more than 1,000, Daughenbaugh said. Saturday's event will include displays about irrigation, vehicle maintenance and weed control; horseshoeing and roping demonstrations; square dancers; antique tractors; a petting zoo in Gondola Square featuring cows, sheep, miniature donkeys, draft horses, chickens, turkeys, alpacas, llamas, camel, bison and yak; carriage rides; a hay maze; quilt making and more.
The event is presented by a partnership between the Community Agriculture Alli-
ance and the Steamboat Ski and Resort Corp.
"The Ranch Rendezvous Day provides a way for each of us to share our Western heritage, while reminding us of the unique Western mix here in the Yampa Valley," said Andy Wirth, vice president of sales and marketing for Ski Corp.
Also Saturday, Historic Routt County will host a Heritage Ranch Tour in the Pleasant Valley area near the base of Rabbit Ears Pass. The city of Steamboat Springs will provide transportation for the three-hour tour, which begins and ends at the ski base and includes stops at the Legacy Ranch and the Gay Ranch, with commentary along the way from local guides.
Daughenbaugh said ranching in the Yampa Valley is becoming an increasingly difficult profession for young people to enter.
"What's threatening agriculture in Routt County is the fact that land prices have become so high, and equipment prices have become so high," she said. "Young people can't buy themselves into a ranch, or get a mortgage for equipment. It makes it very tough for people to stay in agriculture."
Saturday's events will provide a great way for people to experience local ranching heritage, Daughenbaugh said.
"It's going to be a fun one," she said.
- To reach Mike Lawrence, call 871-4203
or e-mail mlawrence@steamboatpilot.com