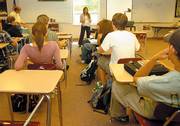 Steamboat Springs — Preliminary numbers show enrollment has increased in the Steamboat Springs and South Routt school districts.
There were 1,992 students enrolled in Steamboat's public schools as of Aug. 31, compared with the 1,975 students enrolled at the end of last year, Superintendent Donna Howell said.
There were 409 students enrolled in South Routt as of Tuesday, which is an increase of 15 students from last year, Superintendent Kelly Reed said.
"Those could change drastically," Reed said of the numbers.
An official student count at South Routt, Steamboat Springs and Hayden will take place in early October. Those numbers will determine the per-pupil funding for the school year. Colorado public school districts receive funding on a per-pupil basis, so administrators track enrollment numbers diligently.
Howell said there were 395 students at Soda Creek Elementary, 480 students at Strawberry Park Elementary, 451 at the Steamboat Springs Middle School and 666 at Steamboat Springs High School.
"We are up across the board, but that was as of Aug. 31," Howell said. "These are very preliminary. We have the October count. That is what we base our revenue change on."
South Routt saw its largest gain in students at the South Routt Elementary School, which has 210 students in kindergarten through sixth grade.
Soroco Middle School has 51 students, and there are 147 students at Soroco High School.
Hayden started classes Tuesday, so a better estimate on enrollment numbers will come next week.
- To reach Melinda Mawdsley, call 871-4208 or e-mail mmawdsley@steamboatpilot.com