Photo Gallery
Labor Day in Oak Creek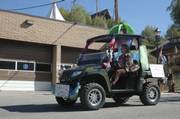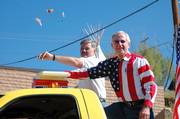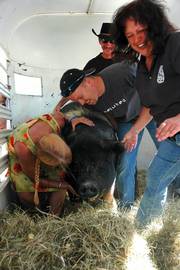 Oak Creek — Oak Creek Mayor Kathy "Cargo" Rodeman spent a good part of Labor Day running around Decker Park barefoot and begging people to pay $1 to vote for the town official they most wanted to watch kiss a pig.
Oak Creek's "Kiss A Pig" contest is one of the town's signature events during its annual five-day Labor Day celebration. Last year, Oak Creek police Chief Linda Koile "won" the most votes and got up close and personal with a pig.
On Monday, police Officer Chris Tritz paid a little extra to see his boss pucker up for Bella, a 750-pound sow. But his plan didn't work, because at the last minute, Oak Creek resident Richard Wisecup made sure that Tritz, Rodeman and Koile received the same number of votes - meaning each had a brief date with Bella.
"I got a little Bella drool on me," Rodeman said after the kiss. "But it was worth it because we raised some good money for a good cause." Money raised during the contest goes to the town's Labor Day Committee.
Not counting her kiss with Bella, Rodeman said the weekend-long activities - which included a parade, a children's fishing derby, a dunk tank, bands and dances - was better than ever.
"I'm glad this is all almost over because it's been non-stop for five days," she said, laughing. "You've got to be a strong mountain woman to handle this."
Becky Wisecup, president of the Oak Creek Labor Day Committee, said she was impressed with the crowds that attended Monday's parade and daylong activities in Decker Park.
"All of the days have been so wonderful," she said. "These crowds are huge. I have never seen this many people out before."
Grand Marshal Jake Schwan said he was honored to have been a part of another Oak Creek Labor Day.
"I feel great," he said. "I am glad they asked me to be in the parade (as Grand Marshal)."
Schwan, who is best known for skydiving and landing on a pizza pan during past Labor Day events, said he wasn't overly disappointed to have retired from his skydiving career last year.
"I've been jumping out of a plane and landing in Decker Park since 1976," he said. "I've made 57 jumps."
But there were others to take his place. Four skydivers descended in to Decker Park, grabbing the attention of attendees until they landed - some a little harder than others - safely on the grass.
"I love the skydivers. They're my favorite," said Yampa resident Chareese Trujillo, 14.
Chareese's friend, 14-year-old Jewel Almeida of Oak Creek, was basking in the sun alongside her. Jewel said the pair spent most of their weekend lounging at Decker Park.
"I've lived here for seven years, and every Labor Day, it's what you do - you hang out at the park. It's the place to be," she said.
- To reach Alexis DeLaCruz, call 871-4234 or e-mail adelacruz@steamboatpilot.com