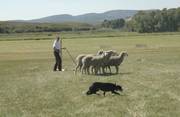 Steamboat Springs — Marianne Sasak's border collie puppy, Dot, is only 14 months old, but she already has the passion and vigor it takes to be a competitive stock dog.
"She just loves this. I haven't found her 'off' button yet," Sasak said.
The third annual Steamboat Springs Stock Dog Challenge began Sunday and continues today at the Stanko Ranch off Routt County Road 33. Dozens of dogs from around the country will compete in today's trials, which include an intermediate course and an expert course.
The Steamboat event is one of the last stops many of the handlers and their dogs will compete in before heading to next week's competition in Meeker, which will be followed by nationals.
Sasak, organizer of the Steamboat event, said Sunday's crowds and competitors were perhaps the best the local show has ever seen.
"People love watching what dogs do best. It's like with any type of dog competition. If a dog is happy working, people enjoy watching it," she said. "To me, this is the most fun thing in the world."
On Sunday, dog handlers competed in two classes - open and open ranch. The open class is the most advanced course a handler can run his or her dog through.
Open ranch is an intermediate course. Handlers begin each run with a certain number of points, and they are deducted points for every mistake the handler or the dog makes.
Handlers are not able to walk the course with their dog; instead, the dogs are commanded with whistles or verbal commands.
Vergil Holland, a longtime stock-dog handler from Kentucky, said the competition may look easy from a spectator's point of view, but that for the handler, the dog and the sheep, it can be brutal.
"If a handler pushes his dog too much, the dog will become stressed and he will quit. On the other hand, I've also seen handlers come to near heart attacks during a competition," he said. "I guess the sheep are the ones with the least to worry about."
Border collies are incredible animals because of their intelligence and work ethic, Holland said.
Most handlers can have a border collie puppy ready for competition by the time it is two or three years old.
"Hundreds and hundreds of years of breeding and very careful selection have made these dogs how they are," he said. "These dogs have the intensity it takes to be sheep dogs. It's easy for them, and they're glad to do it. Other dogs don't have the level of intensity it takes to stick with it when it gets down and dirty."
On Sunday, Holland said he had "one good run and one bad run," but that the overall competition was of a high caliber.
"Honestly, it's tough to be out there because you have to have a handle on so many variables. You have to be able to read five sheep with five different ideas, the terrain and the conditions," he said. "There are those that love it and stick with it, and there are those that give up and buy a boat."
Holland said more people would do better to take a life lesson from a border collie once in a while.
"They've got the most incredible work ethic," he said.
Sasak agreed.
"To (the dogs), work is the reward. They can't think of anything better to do than work," she said.