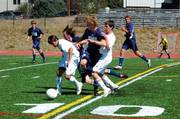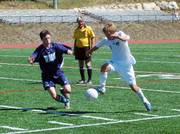 Steamboat Springs — Coming off Thursday's 4-0 loss to a skilled Summit High School team, Steamboat Springs High School soccer coach Rob Bohlmann was focused on two things heading into the Sailors' home opener Saturday morning at Gardner Field - tightening down the hatch defensively and continuing to work on generating the attack.
In its first appearance on the new turf against the Vail Mountain School, the Steamboat defensive hatch certainly looked sealed.
"The ball was rarely in our half," Steamboat junior fullback Kevin Bertrand said.
Jumping quick to loose balls in Vail's half, Steamboat was poised to run up the score on its 3A opponent. Although Steamboat senior David Comeau was able to get off a few good shots, the Sailors struggled to find the net, shooting high and wide.
"We missed some opportunities taking some unrealistic, low percentage shots," Bohlmann said.
Despite Steamboat's dominant possession time, the first half ended in a scoreless tie.
"We had the intensity and rhythm down, we just couldn't finish," senior midfielder Nick Labor said.
Nine minutes into the second half, Vail capitalized on one of their only scoring opportunities of the game. Vail's Jackson Dowell connected with Jackson Higgins on a corner kick to the far post, sneaking the ball between Bertrand and Steamboat goalkeeper Bjorn Lickteig, broaching the hatch and putting Vail up, 1-0.
"Defending in the box is one of the things we need to work on," Bohlmann said.
Still controlling the pace of the game, the Steamboat offense found its stride as Labor moved up from the defense and streaked down the right side. Playing the ball from the corner, Labor crossed it to senior forward Sam Houston, who tied the game with a solid header with 20:15 left in play.
Labor and Houston struck 10 minutes later on a nearly identical play, Labor hitting Houston on the ground, wide-open in front of the net. Houston scored again to finish the game in a 2-1 Steamboat win.
While Labor joked after a satisfying home victory about having to spit out the new field's rubber pellets after a slide, Bohlmann stressed his team's need to figure out how to turn the quality possessions into scoring opportunities through "unpredictable and creative play."
Steamboat's next game is 4 p.m. Thursday against defending Western Slope League champions Battle Mountain in Minturn.
- To reach Dave Shively, call 846-1129 or e-mail dshively@steamboatpilot.com