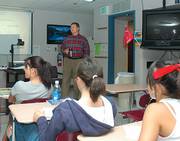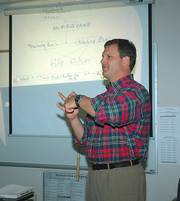 Steamboat Springs — As Principal Mike Knezevich looked at results from a recent survey profiling the needs, habits and goals of students at Steamboat Springs High School, one statistic particularly bothered him.
"Only 13 percent of students perceive that adults in the community value youth," Knezevich said. "By having these classes and bringing community members in, we will start building that back up."
The classes Knezevich refers to are a new medical prep class and a design technology class that are part of a cooperative and longterm vocational program. Both classes are designed to span over two years.
"The first year is a kind of potpourri - a sampling of different fields," Knezevich said. "We're hoping that in the second semester of the second year, the students will identify areas of strong interest and passion that will lead into a work study and internship."
The medical prep is an introduction to all the health-related professions, and will be taught by Lance Pugh.
"I made the joke that I was honestly looking for a medical school dropout to teach the class," Knezevich said. "Someone with medical experience in the field and practical experience."
Pugh has been actively involved as a physical therapist for about nine years. He teaches anatomy and physiology and a sports injury class at the high school. He will teach the students the basics of anatomy and physiology as well as the terminology used in the health care industry and concepts such as confidentiality.
"It sounds like a science class, but it falls into the career, business and technology area," Knezevich said. "They will also learn interview skills and how to prepare a resume."
The design technology class will provide the same basic concepts that are inherent in careers in the design field. Chula Walker, an art teacher, and Dusty Dike, an industrial technology teacher, will instruct the class together with a team approach.
"In the first semester, the students will learn the principles of design and will look at whatever project they might do - whether it be in landscape architecture, interior design, computer animation, or fashion, graphic or Web design," Knezevich said.
These classes require some new computer programs and equipment paid for by the Education Fund Board and state and federal grants.
These new classes will bring the high school closer to its goal of enhancing the connections between the students and members of the community, Knezevuch said.
"They will come away with some real skills in those areas that are definitely in demand," he said. "One of the most important things is that they will learn in an authentic setting and in real life situations. That's when real learning takes place."
- To reach Allison Plean, call 871-4204
or e-mail aplean@steamboatpilot.com