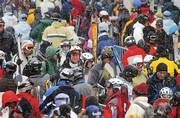 Steamboat Springs — American Skiing Co. reported a net loss of $65.7 million in the 2006 fiscal year, but the company also reported that its debt has declined and that performance at its Western resorts is strong.
ASC filed its year-end report with the Securities and Exchange Commission on Monday. The fiscal year ended July 31.
The Steamboat Ski Area accounted for more than a fourth of ASC's $274.4 million in resort revenues. Resort revenues were up by $7 million, the company reported.
ASC owns seven resorts, and although the report did not specify revenues specific to the Steamboat Ski Area, a document leaked to the media in September put Steamboat revenues at $74.2 million for fiscal year 2006.
The potential sale of the Steamboat Ski Area also was discussed in the year-end report.
The company "is in talks with a small group of potential purchasers," the report stated. "There is currently no contractual agreement between the company and any potential purchaser, and the terms of a possible sale and likelihood of completion of a sale are unknown."
ASC reported that its Western resorts continue to outperform those in the East, which saw a 16 percent drop in skier visits.
"We had a very good year despite bad weather in the East," ASC spokesman David Hirasawa said. "Some of the revenue areas performed very well."
Strong season pass sales, growth at The Canyons in Park City, Utah, and excellent performance at Steamboat were the factors the company cited for a strong year. The Canyons saw an increase of 18 percent in skier visits last season. Steamboat was up 8 percent in skier visits.
Total skier visits for all ASC resorts were down nearly 7 percent, but net cash provided by operating activities was up $13.6 million.
The year-end report also mentioned trends for the upcoming season. Hotel bookings for the first quarter of 2007 are outpacing last year by 15 percent at ASC's Western resorts.
Season pass sales are well ahead of pace in the West, according to the report. At Eastern resorts, pass sales are down. Overall, pass sales are up 2 percent from last year.
ASC still faces a significant amount of debt. "We are highly leveraged," ASC managers reported to the SEC. "As of Sept. 30, 2006, we had $588.6 million of total indebtedness outstanding."
The total includes $220.7 million of secured debt that requires regular payments on principal and interest. And it includes $367.9 million in redeemable preferred stock, which someday will be redeemed for cash but does not require regular payments by the company.
Last year, the company reported $673.7 million in debt.
Real estate principal balances were paid off in 2006, thanks largely to the auction of the remaining inventory at the Steamboat Grand Resort Hotel.
"All of the principal balances are gone, and that's something we've been working hard on every year," Hirasawa said.
Paying off the balance was the company's strategy, said ASC President and CEO B.J. Fair. "We are now squarely focused on new development opportunities and reinvestment into our resorts," he said.
The debt has limited the amount of money that can be reinvested in ASC's resorts, the company stated. For 2006, ASC had $13.2 million in capital spending. That is expected to increase in 2007 and 2008 to $15.5 million each year.
"In addition to our own investment, we plan to enter into joint venture agreements and third-party participation to continue reinvestment in our resort operations," Fair said.