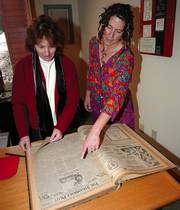 Steamboat Springs — Century-old editions of a historic Routt County newspaper will soon be available on the Web.
Using funding allocated by the Routt County Museum and Heritage Fund Advisory Board, the Routt County commissioners have pledged $10,575 to digitize editions of the Routt County Sentinel newspaper, which published weekly in the early 1900s.
The funding represents a significant step forward for the Routt County Historic Newspaper project, which began in May and is spearheaded by staff at Bud Werner Memorial Library. The project has an estimated total cost of $47,372, which in addition to digitizing the Sentinel would place decades-old editions of the Routt County Republican, Oak Creek Times, Yampa Leader and Steamboat Pilot on the Web, to be accessed free of charge.
"Only a few historians realize that (the Sentinel) actually existed," said Alysa Selby, reference and adult services librarian at the library. "We're seeing a version of our history that the public has never seen before."
Selby has sent large books of old Sentinel editions, dating from Oct. 5, 1900, to Oct. 28, 1927, to the Colorado Historic Society for microfilming and then digitization onto the Web. The books were stored in an archive vault in the Steamboat Pilot & Today building in Curve Plaza.
The project is intended to digitize editions of newspapers prior to 1923, after which copyright restrictions apply.
Since 2003, when Routt County voters approved a mill levy to support historic preservation, the Museum and Heritage Fund Advisory Board has awarded $72,765 to museums and historic interests across Routt County.
When Selby thanked Routt County commissioners Monday for their support of the newspaper project, Commissioner Doug Monger deflected the gratitude.
"It's really thanking the Routt County voters," Monger said. "This is a program that would be much harder to fund without their support."
To help with the Historic Newspaper Project or for more information, call Selby at 879-0240, ext. 305.