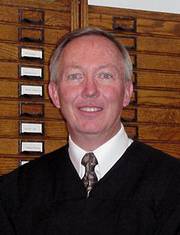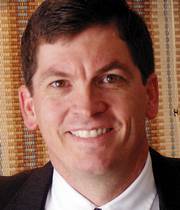 Steamboat Springs — A state panel recommends voters retain two judges in the 14th Judicial District on Nov. 7.
The State Commission on Judicial Performance unanimously recommends that District Chief Judge Michael O'Hara and County Judge James Garrecht be retained for their positions. The commission also recommends Court of Appeals judges Russell Carparelli, Janice Davidson, Alan Loeb, Jose Marquez and Robert Russell be retained.
Commissions on Judicial Performance were created in 1988 by the Colorado General Assembly to provide voters with fair, responsible and constructive evaluations of judges and justices seeking retention.
Jane Howell, director of the State Commissions of Judicial Performance, said the commission is made up of attorneys and other residents of the district who rate judges based on information received from questionnaires that are sent to random attorneys, jurors, victims, law enforcement officers, court personnel, district attorneys and others who work with the judges.
The questionnaires are used to evaluate the performance based on criteria such as integrity, communication skills, legal ability, sentencing practices, attentiveness and docket management.
Judges complete self-evaluations, are interviewed by the commission and are observed in the courtroom as part of the process.
District Administrator Evan Herman said O'Hara was appointed a judge in 2002. This is O'Hara's first time seeking retention. Garrecht was appointed in 1987 and has been retained five times since then. Newly appointed judges are up for retention after they serve a two-year provisional term. County judges are up for retention every four years. District judges are up every six years. The Court of Appeals is up every eight years, and the Colorado Supreme Court is up every 10 years.
The commission's evaluations were complimentary of both judges.
The commission's findings stated, "O'Hara received high ratings from both attorneys and non-attorneys in virtually every category."
O'Hara specifically was rated as being very courteous, communicating clearly, maintaining proper judicial temperament, treating parties fairly and giving all participants an opportunity to be heard.
O'Hara describes his philosophy "as striving every day to do the right thing and try to do no more harm." During his interview, O'Hara acknowledged that his administrative duties were initially a significant distraction from his judicial duties and that he recognizes areas where his efficiency and performance can be improved.
Garrecht similarly received high ratings in nearly every category from the commission by explaining court procedures, making the correct decision based upon the law and the facts and being fair, unbiased and impartial.
Herman said the high ratings of both O'Hara and Garrecht received did not surprise him.
"In my opinion, we're very lucky to have the judges we do," he said. "They both do an excellent job for us."
- To reach Alexis DeLaCruz, call 871-4234
or e-mail adelacruz@steamboatpilot.com