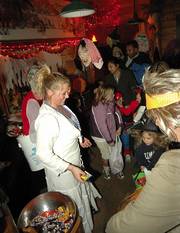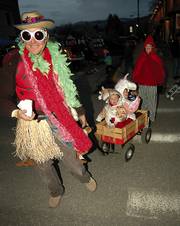 Steamboat Springs — Generally, bloody fingers in a bowl would be inappropriate in a restaurant. But Halloween allows for an exception.
So no one blinked an eye when The Shack turned its restaurant into a haunted house with cobwebs, scary monsters and detached limbs Tuesday night.
It was the first year the restaurant became a haunted house for the Downtown Halloween Stroll. Judging by the screams and laughter coming from costumed children, the haunted house also was a fun house on Lincoln Avenue.
The downtown stroll celebrated its 25th anniversary Tuesday, and many Halloween revellers have made the event a tradition.
"I've been here 25 years," David Wilkinson said. "I'm always into it."
Fans of Halloween may recognize the Wilkinson name. The family has become synonymous with the downtown stroll. Last year, the Wilkinsons dressed as the Potato Head family. Before that, they were the Jackson 5.
This year, prompted by the purchase of a tall, black hat, Devin Wilkinson, 15, suggested the family be characters from the movie "Charlie and the Chocolate Factory."
"It's so fun making them," Lisa Wilkinson said of the costumes.
David was the golden ticket. Lisa was a bag of Everlasting Gobstoppers. Devin was Willy Wonka. And Riley, 9, was an Oompa Loompa.
Families who dressed as a theme appeared to be, well, a theme Tuesday.
The Vertrees family emerged from the underworld just in time for some trick-or-treating. Josephine, 4, and Sophie, 1, had homemade mermaid tails that were jeweled and intricate. Josephine was Ariel from "The Little Mermaid," and Sophie was also - literally - a little mermaid.
Kent Vertrees, the girls' father, was King Triton. Jacquie Lewis, or "Nana Jax," was Ursula.
Jasper Good rolled into downtown Steamboat ready to play. Jasper, 10, was decked out in a puffy soccer ball costume.
Jasper, who plays soccer, said the costume was his idea.
"My grandma helped me make it," Jasper said. "We sewed it together and cut out these little pieces."
While the temperatures weren't balmy Tuesday, conditions were favorable for everyone to be outdoors. The Egger family came prepared, however, dressed warmly as a family of bees, costumes Laura Egger made herself.
Matthias, 2, was being flown, or carried, by his father, Tom Egger.
Matthias didn't have much to say about Halloween, but he did have an answer when asked whether he liked candy.
"Yeah," he said sheepishly.
The downtown stroll was from 5 to 7 p.m. Tuesday, and downtown merchants handed out candy, treats and - in the case of Johnny B. Good's - French fries.
Lincoln Avenue also was a social scene as friends convened in the middle of the street and on crosswalks to compare costumes and candy.
As the hour approached 6 p.m., Kailee Duryea made her way toward the stoplight on Fifth Street and Lincoln Avenue. Standing in a dress with tights on, it was hard to tell whom Duryea was dressed as, but the Steamboat Springs Middle School student turned around and smiled, showing off her drawn-on freckles and braids that stuck out more than a foot on each side.
Ah, Pippi Longstocking. But how did Kailee get her hair to stick out that much?
"It took awhile," Kailee admitted. "My mom worked on it for an hour trying things. We tried a wire, and she braided over the wire, and then we could bend it any way we wanted."
- To reach Melinda Mawdsley, call 871-4208 or e-mail mmawdsley@steamboatpilot.com