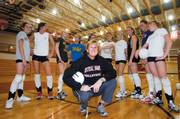 Wendy Hall has spent the past 20 years gaining the respect of her players and opposing coaches by making sure her teams are always prepared. But it was Hall, Steamboat Springs High School's volleyball coach, who was unprepared for what her team did before its final home game of the season Oct. 19.
During a brief ceremony before the match, the girls presented Hall with an array of gifts, flower bouquets, heartfelt hugs and a signed, gold volleyball. The team's three graduating seniors gave Hall an assortment of 20 small gifts - one for each year she has coached, and athletics director Richard Lee presented Hall with a framed certificate honoring her years manning the sideline.
"There was lots of clues, but I didn't get them," Hall said. "It was an emotional night, and I didn't see it coming."
Although the Sailors would lose that night's match to powerhouse Battle Mountain, the surprise ceremony was a deserving gesture for Hall's role in building Steamboat's volleyball program into one of the most successful and respected in the state.
"She's a great coach and a huge asset to the Steamboat community," said Brian Doyon, coach of the undefeated Battle Mountain Huskies, who won the Western Slope League this year. "There are X-factors that people forget about as well, in terms of the athletes she sends to college. It's a well-run program where she's doing all the right things. It's nice to emulate."
Katie Carter, one of those college volleyball standouts who played under Hall, said she remembered being intimidated going out for volleyball as a freshman in high school.
"I was so horrible when I first met her, but she knows how to push people," Carter said.
After graduating from Steamboat Springs High School in 2003, Carter is now the co-captain of the UCLA Bruins volleyball team. At 23-2, the Bruins were ranked No. 4 in the country before their Friday upset loss to the University of Washington.
"A lot of how I play is how she taught me - being very disciplined and always being in great shape, no matter what," Carter said. "She made us feel important, and the bottom line is that she is so dedicated."
Hall's dedication began as a high school student at the same school for which she coaches. Hall graduated in Steamboat's class of 1982. Her basketball team played in the state tournament her senior year, and Hall said it was an experience she wanted other girls to have. After graduating college, Hall returned to Steamboat and began coaching the freshman/junior varsity volleyball team in 1987. Two years later, she took over the varsity coaching position.
In 1991, Steamboat made the state tournament. In just a few years, Hall had established a winning tradition. The team returned to the tournament the next four seasons.
"She wanted us to get better and was really driven," said Katie Moskowitz, a 1993 Steamboat graduate who went on to play and coach at the collegiate level. "We were one of the few schools running quick sets, which was at the cutting edge at the time."
Despite numerous appearances in the state tournament, winning the title has eluded Hall's teams. In 1998, Steamboat fell to Fort Morgan in the title match. The same fate befell the team in 2002, that time in a loss to Lewis-Palmer.
While Hall said while she will never forget those successful seasons, her fondest memories are those of the lasting connections made with individual players and families.
"She's more than just a coach, she's a mentor," said 2006 graduate Tara King, now playing in her freshman year at Mesa State College. "She made me a lot of the player I am today, with my work ethic and pushing me to be a leader."
King is thankful for the intense practices that bolstered her self-discipline, and she remembers Hall best for a particular practice in which an unexpected set of goofy sideline cheers and dances cracked the team up, with Hall mixing a little humor into the drills.
"You have players throughout the years you connect with and hope you had something to do with their success," Hall said before the Sailor's practice on Wednesday. "You try to connect with everybody, try to make a difference here and there. If you can make a difference in their lives and if they learn lessons along the way, that's really rewarding and what it's all about."