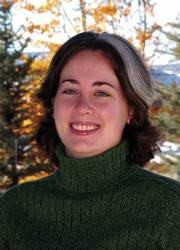 Steamboat Springs — The ongoing protest at Gallaudet University in Washington, D.C., against the selection of Dr. Jane K. Fernandes as the next president is not just about deaf identity politics - it's about a university community's struggle for shared governance.
In the weeks since the protest intensified with the takeover of the main academic building, university administrators have obscured the aims of protesters. Fernandes has repeatedly told the media that students oppose her because she is "not deaf enough."
Clarence Page's editorial in Friday's Steamboat Today testifies to the success of Fernandes' public relations campaign to detract from arguments that she is not an effective leader. Page wrote, "(The protest) is a saga about identity:and how far we will go to keep our groups intact."
The protest is about a community fighting to protect the welfare and future of the nation's sole liberal arts university for the deaf.
In an Oct. 13 letter, teachers and staff at the Laurent Clerc National Deaf Education Center, located on campus and of which Fernandes was vice president from 1995 to 2000, wrote that she "ignored, alienated and disrespected teachers and staff" and created an atmosphere of distrust and fear. They listed examples of her poor administration: class sizes were expanded with many levels of instructional needs in one class; enrollment decreased, only to increase after she left; faculty governance system and grievance process were eliminated; faculty status of staff was stripped; sabbatical leave was denied; and staff were discouraged from celebrating personal milestones such as birthdays.
In 2000, contrary to standard procedure, President Dr. I. King Jordan appointed Fernandes provost while the university was not in session, bypassing confirmation of her position through the faculty senate. He previously awarded her tenure, also without consulting the faculty senate. After her appointment as provost, the faculty voted "no confidence" in her leadership.
During her six years as provost, the percentage of Gallaudet graduates who found appropriate employment or went to graduate school during the first year after graduation fell from 90 percent in 2001 to 69 percent in 2005. A Department of Education oversight program rated Gallaudet last year as "ineffective" because it failed to meet annual and long-term goals in retention and graduation. Its graduation rate is half that of most universities.
In an Oct. 26 letter, nine former freshman dorm resident assistants wrote that Fernandes neglected them and residents after two murders occurred on campus during the 2000-01 academic year. After the second murder, they were isolated in a room for hours. Fernandes said she would arrange for meals. Three hours later, when reminded of her promise, Fernandes' response was, "I forgot all about it."
During the presidential search process this spring, Fernandes was selected as a finalist, along with a candidate with little postsecondary administrative experience and another without a doctorate. Several applicants with significant administrative experience and academic credentials were not selected.
Despite campus feedback - 81 percent of undergraduates and 66 percent of graduate students found Fernandes unacceptable in a poll - the Board of Trustees made Fernandes the next president.
As the protest against a flawed search and selection process intensified, the faculty met Oct. 16 and, with an unprecedented 74 percent of voting members present, voted 82 percent to 14 percent to "demand" Dr. Fernandes' immediate resignation.
Fernandes accused the faculty of being influenced by the highly charged, emotional environment on campus, and she admonished them to stop goading the students.
Student leaders met with Fernandes last weekend, and she said she did not understand why they opposed her. One of them asked her if she had read any of the hundreds of letters sent to her. She said she had not.
In her previous jobs and during this protest, Fernandes has demonstrated an inability to listen to the community, as well as an abrasive leadership style.
She is not "not deaf enough." She is too deaf to be an effective leader for the university.
But the "deaf card," which the media has gobbled up, has overshadowed that issue. If this happened at Howard University, the black community would be outraged by media accusations of "not black enough."
Gallaudet University must be given the respect given to any other university in the nation. It may be the cultural mecca of the deaf community, but it is also a post-secondary institution in need of good leadership. It must be recognized as an educational institution fighting for shared governance, like Harvard and American University, which recently have gone through similar situations.
This protest is not about a group of students upset about not getting their way. It is not about faculty out for revenge. It is not a popularity contest. It is not about deaf, or not deaf enough. It is about the struggle to supersede identity politics and save a university.
Schupner, a copy editor at the Steamboat Pilot & Today, was a student at Gallaudet University from 2001 to 2002. She returned to the school last week to take part in the protests.