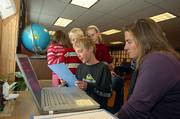 Steamboat Springs — The signal goes up: "Three, two, one, record."
When Diane Maltby's fourth-graders at Strawberry Park Elementary School hear that phrase, they know it's time to be quiet - a classmate is talking into the computer microphone.
On Thursday afternoon, Maltby's class was recording peace poems the students wrote in conjunction with the pinwheels it built for a project in September.
"They could be anything about peace," fourth-grader Madisen Owen said about the poetry assignment.
Each fourth-grader in Maltby's class had his or her picture taken, and that picture, along with the audio recording of his or her peace poem, will be put together for an online package to be viewed by anyone who logs on to Strawberry Park's home page.
Maltby's class, which also made a Strawberry Park rules video for the school's Web page, is just one of many district classes integrating technology into regular classroom work.
At Monday's Steamboat Springs School Board meeting, Strawberry Park teachers gave a short presentation about how they are using technology to enhance classroom work.
Strawberry Park Principal Mark MacHale, instructional support specialist Celia Dunham and media specialist Sherry Holland attended a Technology in Education (TIE) conference to learn more about integrating technology into the classroom. Middle School instructional support specialist Kandise Gilbertson also attended the TIE conference.
"One of the reasons we were determined to go is because things are changing drastically in how technology is being used in the classroom," Holland said. "How do we support curriculum effectively with all the tools we have available?"
And the tools seem endless. On Friday, there was no school, but teachers and staff were in the building. Holland was copying information onto CDs as she hopped back and forth between the MacBook Pro computers in the school's library. She was demonstrating everything the computers could do with as much enthusiasm and pride as a kindergartner in show-and-tell.
"It's a multi-sensory experience," Holland said.
At Monday's meeting, Dunham handed School Board members a sheet showcasing the benefits of what the school is calling "21st Century Learning."
Integrating technology encourages students as young as kindergarteners to become digitally literate, inventive thinkers, effective communicators and productive.
Dunham said she has noticed the students becoming more aware of how well they write because they have to read what they write out loud. She also has noticed they are aware of how they speak on a recording.
Using podcasts and blogs enables students and parents to see what Strawberry Park students are accomplishing.
Holland admitted it was overwhelming at first, but the school, which received grants from the Education Fund Board's Technology Commission to purchase necessary equipment, has tried to ease students and teachers into the changes.
"It's not entertainment by any stretch, but it's something they enjoy," MacHale said. "We need to tap into ways to keep their engagement level high. They are making connections between their life and their school life."