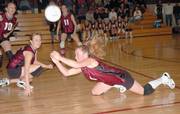 The girls on the Soroco volleyball team may not like playing in the high school's old gym because of its low ceilings and tight sideline space, but Betsy Photos was glad to close out her career as Soroco's head coach there on Saturday.
She started coaching for the Rams in the same gym in 1986, but plans to move out of Oak Creek later this year.
"I love it, it's fun for me to play here," Photos said, reminded of the days when the gym would give her teams serious home advantage.
Soroco went into its match against Paonia on an even playing field, both teams having already been eliminated from winning their pool and advancing to semifinal round of the District 5 tournament. Paonia pulled out the win in four games, 25-9, 22-25, 25-9, 25-16.
Soroco struggled early with its serve-receive and with trying to block Paonia's Brittani Vernard.
After the 25-9 loss, the Rams responded with one of their finest playing efforts of the season.
Soroco jumped to a 5-2 lead on a Sarajane Rossi kill. The Rams maintained the lead on string of kills from Amanda Wilson, who had five of her team's 13 in the game. By holding strong on defense to let Paonia make the mistakes, Soroco closed out a 25-22 win.
Photos credited the win to her team's 22 digs and ability to connect 28 pass-set-hit plays.
The Rams could not sustain the same play in Game 3, but again responded to a 25-9 loss with tenacious play. Soroco came from behind to tie up Game 4 twice, but both times answered with costly serving errors. Soroco brought the score to 16-13 on a Wilson kill, but it could not block key Paonia hits at the net.
"Sometimes the momentum gets going and we get excited and forget to focus on the fundamentals," Wilson said. "I think we could have played better, but we left most of what we had on the court:It was a fun season. We kept our heads up and kept pushing each other."