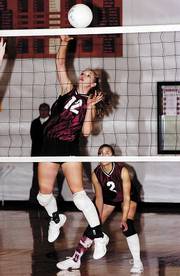 Steamboat Springs — One game.
After dropping the first two matches at the District 5 tournament in Oak Creek, that's all the members of the Soroco High School girls volleyball team has left this season. When the team takes the court today at 10:30 a.m. they will be looking to conclude the season on a winning note in what is expected to be head coach Betsy Photo's final match as head coach. Photos is planning to move out of Oak Creek later this year.
"Ram pride, that's what is at stake," Photos said about Soroco's final match. 'We want to start the winning streak for next year's team."
Despite coming into the tournament the No. 8 seed, Photos and the Rams had high hopes for the district tournament. Soroco picked up its first win of the season on Tuesday by knocking off Grand Valley in Parachute to earn the right to play in the district tournament. But after losing to top seeded Rangely (25-11, 25-17, 25-15) and Plateau Valley (25-11, 25-19, 25-15), the Rams coach couldn't help but feel disappointed for her players.
"No, this isn't the way I wanted things to go," Photos said. "We came into the tournament hoping to upset the top teams. I know these girls can play with the best teams in our league, but we didn't play our best tonight."
Photos had hoped to beat the odds, but, as expected, Rangely opened the tournament with a strong showing.
"They are just so scrappy," Photos said about the Panthers. "We couldn't get our shots to go down, and they seemed to get to everything."
Photos said the Panthers' Whitney Chumacero kept the Rams off balance with her serving in the game. Lysa Herrera hammered home nine kills in the match while Hannah Walz collected 18 assists.
The Rams finished the match with eight kills, including two from Emily Strait, two from Emily Hallenbeck and two from Sarajane Rossi. Toni Lombardi and Gina Werremeyer also had kills in the match.
"Rangely is a really fun team to play," Strait said. "They are good sports, and they have a really good team that pushes you on the court."
But Rangely wasn't the only team pushing Soroco at the district tournament.
Despite a stronger offensive showing in the team's second match, the Rams lost to Plateau Valley.
Strait had five kills in the match, and Amanda Wilson added three and Rossi finished with two. But despite the offensive production, the Rams could not move past the Cowboys in the match. The loss means that today's match against Paonia will be for pride only.
"We wanted to peak at districts," Wilson said. "We fought so hard to get to districts, now we need to show these other teams that we are ready to play."