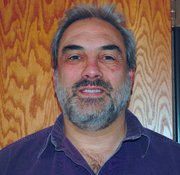 Steamboat Springs — Jerry Kozatch is the newest member of the Steamboat Springs School Board.
The Steamboat Springs School Board voted 3-1 Friday to appoint Kozatch as its District 5 representative.
At a meeting Monday, board President Denise Connelly and member John DeVincentis supported Kozatch. Board members Jeff Troeger and Pat Gleason supported the other candidate for the seat, Laura Anderson. The tie forced Friday's special meeting.
On Friday, Troeger continued to support Anderson but formally voted for Kozatch to prevent Connelly from having to appoint an applicant. In the event of a tie, the board president appoints the new representative.
Kozatch, who works for the Steamboat Pilot & Today as an assistant bookkeeper, will replace Tom Miller-Freutel. Miller-Freutel resigned from the board Sept. 1. The board was facing a Wednesday deadline to make an appointment.
Kozatch is the chairman of the Education Technology Commission and a member of the Fund Board.
Prior to Friday's formal vote, the board members talked openly about their decisions.
DeVincentis emphasized he was not voting against either applicant because both were qualified. Instead, he was voting for Kozatch.
It was a sentiment shared by other board members.
Neither Kozatch nor Anderson was present for Friday's vote.
Troeger cited more gender balance as a reason he initially supported Anderson.
Gleason said he appreciated the time between board meetings because it allowed him to speak again with both candidates.
"Here we are with two highly qualified candidates," Gleason said. "I'm willing to work with either one of them. If we can't get past an impasse here, if a decision to appoint is made, that's fine with me."
DeVincentis said Kozatch represented an important segment of the community - residents without children in the district. Both of Kozatch's daughters have graduated from district schools. DeVincentis also does not have children in the district.
Connelly, who said she was prepared to appoint a candidate if necessary, explained what she was looking for in a board member.
"What I looked at was, a good working relationship with the board, picking someone who can pick issues that affect the district as a whole, (step) into the shoes of Tom Miller-Freutel and (carry) forth a broad vision of the district," Connelly said.
Anderson spoke before Friday's vote, hoping that regardless of the outcome, the board would remember to communicate clearly, which she felt was highlighted by this process.
Kozatch will serve a one-year term and be up for election in November 2007.
He will be sworn in at the next school board study session.