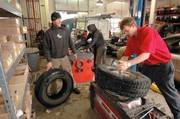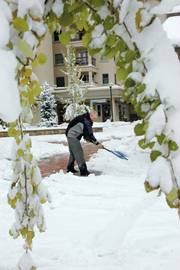 Steamboat Springs — A few lucky ones took advantage of Thursday's mid-winter conditions on Mount Werner.
"I've definitely seen tracks on the mountain, seen the bright orange sleds come out and people walking with their skis," said Heidi Thomsen, public relations manager for Steamboat Ski and Resort Corp. "When you start seeing people actually carrying their skis, you know what's on their mind."
An overnight storm dumped 9 inches of snow at the ski area's summit and 7 inches at the base. Forty-seven inches of snow already have been measured at the summit since the first storm Sept. 16, Thomsen said.
Ski area officials plan to take advantage of the wintry weather conditions. Snowmaking operations began Thursday night, and with overnight temperatures expected to remain in the low teens to mid-20s through the middle of next week, the manmade stuff will continue to fly onto select ski runs. The next blast of natural snow is tentatively forecast for next week.
"We're going into a dry and chilly period for the next several days with lows in the mid-20s, windy gusts up to 40 mph and high temperatures in the mid-50s by the weekend," said Brian Avery, a meteorologist and hydrologist with the National Weather Service's Grand Junction forecast office. "We're not expecting any more storms until mid-week."
Thursday's storm sent motorists flocking to local automobile service shops to get their snow tires put on.
"We had 40 cars come into the lot by 9 a.m.," said Dustin Dahlin, manager of Big O Tires in Steamboat Springs. "The phones have been ringing off the hook and we have been slammed."
Big O Tires typically doesn't expect such crowds until Halloween. Dahlin plans to open the shop 15 minutes early and stay open an hour or two later than usual to accommodate the influx.
Although early business due to snow can be expected some winters, this autumn has brought an unusually wet weather pattern to Routt County.
"For September and October total precipitation, I have 8.08 inches to date," said Art Judson, a longtime local weather observer and retired avalanche forecaster. "Normal for town is 3.71 inches. So, September/October precipitation in Steamboat is at least 200 percent of normal, and we have some yet to go."
It's good news for outdoor enthusiasts.
"After this snow, we had a bunch of people coming in renting snowshoes and looking for cross country gear," said Doug Steadman, floor manager at Ski Haus. "They usually don't come for another couple weeks."
There also has been an increase in residents getting their skis tuned and picking up their seasonal rentals.
There still are 26 days until the Steamboat Ski Area opens, but some aren't waiting on the lifts.
"A buddy of ours hiked up the mountain today and came down Vagabond," Steadman said. "There is snow up there with a little base underneath and a foot on top."