Photo Gallery
Winter Carnival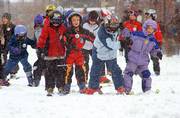 The 2007 Winter Carnival is Feb. 7 to 11 in downtown Steamboat Springs. For more information, call the Winter Sports Club at 879-0695, or visit its Web site at www.sswsc.org.
Winter VacationLand
In the earliest years of Steamboat's existence, winter could be a harsh time of year. There was no ski area, and the cold and snow that set in at the beginning of February could bring on depression.
The annual Winter Carnival began as a way to beat those winter blues by celebrating winter, instead of despising it. Almost a century later, it remains one of the area's best-known traditions.
Local legend Carl Howelsen founded Winter Carnival as a way to interrupt long Routt County winters with fun and games for local ranchers and miners. Taking a break from their work, locals would come into downtown Steamboat to participate in events such as ski jumping, cross-country skiing and shooting.
As years passed, the event grew in size and scope, eventually including events such as skijoring, during which children on skis are pulled down Lincoln Avenue by galloping horses.
Other festivities include ski jumping, dual slalom bicycle racing, a tubing party, snowboarding jam session, chariot racing, a parade that includes the Steamboat Springs High School skiing band and the night show with a huge fireworks display and the famous Lighted Man.
Today, Winter Carnival attracts visitors from across the globe to sidewalk vantage points for daytime activities and events. Local businesses often offer warm cider and snacks for the large crowds of observers.
The beneficiary of the carnival is the Steamboat Springs Winter Sports Club, which has sponsored and organized the event for its entirety. Proceeds from sales of Winter Carnival buttons - the official entry pass to festival events - help fund the Winter Sports Club, which offers training and coaching for hundreds of young skiers and snowboarders.
Winter Carnival will always be a special and unique event, Winter Sports Club executive director Rick DeVos said.
"I think Winter Carnival encompasses the winter history of this valley over the past 100 years," DeVos said. "It was started as a way for people to break out of cabin fever, and that continues today.
"It's a celebration of winter. It still hangs onto all of the great traditions, from horses pulling kids down the street to fireworks at Howelsen Hill."
DeVos said that families make it a point to mark Winter Carnival on their calendars because so many people enjoy watching and participating in the events.
"These four days are a great opportunity for everyone in the family. There is something here for everyone," he said.
In recent years, DeVos said there has been an increase in families and out-of-town visitors who make it a point to be in Steamboat during Winter Carnival.
"That's a really great thing because it helps our community and it helps our kids," he said.