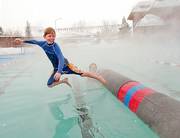 Winter VacationLand
The Old Town Hot Springs at Steamboat Health and Recreation Center offers alternative workouts to skiing and numerous ways to relax.
The facility, at Third Street and Lincoln Avenue, offers exercise classes, hot springs-fed pools, massages, workout equipment, a snack bar and other amenities.
People can spend all day at the center, Assistant Director Jeanne Gillaspie said. Visitors can use the child care service and start early in the morning by taking a class, getting a massage, dipping in the hot pool and working out in the fitness center. The afternoon can be spent with children in the hot pools and slide.
"It's something for people to do on those non-skiing days," Gillaspie said. "It also gives people who don't ski something to do."
The wintertime brings in about 500 out-of-town visitors a day, with the biggest attraction being the three hot pools and 350-foot water slide. The mineral water in the pools, which are spring fed, are an added bonus.
The three hot pools range from 96 to 102 degrees. There also is a 25-yard lap pool maintained at 82 degrees. The water slide is heated to 100 degrees and dumps riders into a heated pool. The water slide is open from 4 to 8 p.m. during the winter.
The health and recreation center also has a fitness center with weight machines, free weights, stationary bicycles, treadmills, cross-trainers, rowing machines, Stairmasters, a versa climber and lifecycles.
The center offers daily exercise classes including yoga, spin, Pilates and water fitness.
And for those who are sore after putting time in on the slopes, the center provides therapeutic, rejuvenating, deep tissue and soothing massages.
All-day access to the three hot pools and lap pool is $8.50 for adults, $5 for those ages 13 to 17 and $3.50 for children and seniors ages 65 and older. Ten rides on the water slide cost $5, and general admission must be paid to use the water slide. The fitness center is $15 a day, including use of the pools and one aerobics class. The cost for a massage is $35 per half hour and $60 per hour.
The facility is open from 5:30 a.m. to 9:45 p.m. Monday through Friday, 7 a.m. to 8:45 p.m. Saturday and 8 a.m. to 8:45 p.m. Sunday. During the winter, the lap pool closes at 8:30 p.m.
Visitors may want to call ahead to see whether the water slide is open, to check whether spin classes are happening or to make massage appointments. The center's number is 879-1828.