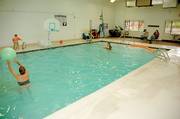 Winter VacationLand
Although winter may be perceived as a time of inactivity because of ice and cold, swimming in the Yampa Valley is by no means over for the year.
There are two pools in Craig that allow swimmers to practice their butterfly strokes or just splash around with friends and family.
The indoor pools at American Legion Post 62 and Moffat County High School are ready for swimming, diving and games of Marco Polo all winter long.
The pool at the high school features six lanes for swimming laps that are 25 meters long. There is a diving board, and the water is heated to 82 degrees in the winter.
There always are two lifeguards on duty, and entry is best accessed from the back parking lot through the west entrance to the school.
The pool is available to rent for private parties, and the showers and locker room for changing are provided at no extra charge.
The American Legion is open all winter and provides open swimming for the public.
Lifeguards are on duty, and the pool is available for private party rentals.
The admission price for the pool includes use of the hot tub, sauna and weight room.
Indoor pools
American Legion Post 62 pool 1055 Moffat County Road 7 Cost: $3 per person; $39 for a 15-punch card Hours: Open swim - Monday through Friday: 3:30 to 7 p.m. Senior swimnastics - Tuesday, Thursday and Friday: 8:30 to 10 a.m. Private party rental - $50 + $3 per swimmer
Moffat County High School pool 900 Finley Lane Cost: Child daily $2; Adult daily $3; 10 punch pass- $20; 20 punch pass-$35; Individual season pass-$60; Family season pass-$85 Hours: Open Oct. 10 to May 11, Monday through Thursday: Laps - 5:30 to 6:30 p.m.; Open swim - 6:30 to 8:15 p.m. Saturday: Laps - Noon to 1 p.m. Public - 1 to 4 p.m.