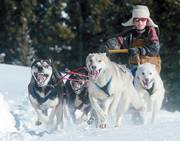 For more
For more information on Stagecoach State Park or to make camping reservations, call (970) 736-2436 or visit www.parks.state.co.us.
Winter VacationLand
When Denver resident Tim Bone came to fish at Stagecoach Reservoir this summer, he didn't anticipate catching Colorado's largest pike on record.
Bone's prize - a 30-pound, 11-ounce pike - beat the state record by 5 ounces.
Stagecoach officials expect plenty of ice fishers to attempt beating Bone's record this winter.
"It was a pretty big event for us," said Stagecoach State Park manager Mike Taylor. "I think people will be pretty excited to come and try to beat that."
Even if catching a record-setting pike or trout isn't on their minds, anglers willing to strap on skis or walk from the entrance of Stagecoach State Park to the tailwaters are rewarded with great fishing and silence. The spot is open to fly and lure fishing and is catch and release only.
In the summer, the fishing spot is incredibly popular because of the number and size of the trout, but numbers dwindle in winter because of the annual closure of Routt County Road 18. The road, which makes the tailwaters accessible in summer, is closed from Jan. 1 to March 31.
"It's the perfect mountain fishing experience, some of the best in Colorado," Taylor said. "Fish are there all winter long."
There also is great fishing potential at Stagecoach Reservoir for ice fishers. The reservoir boasts a plentiful supply of trout and northern pike. The lake typically freezes in November, and ice fishing usually starts around Christmas, Taylor said.
"We usually have between 15 and 20 inches of ice," he said.
Snowmobiles are allowed on the lake surface, but fishermen and snowmobilers are advised to call the park to check on ice conditions.
The park does not provide fishing huts on the reservoir. Anglers are allowed to take their own huts on the condition that they remove them at the end of the day.
Beyond excellent fishing, Stagecoach State Park also is a popular place for cross-country skiing and other winter recreation activities such as snowshoeing.
"Anything you can do in the snow, you can do out here," he said.
There are five miles of cross-country trails that are occasionally groomed, Taylor said. Wind and deep, drifting snow can make grooming difficult.
Until the snow gets too deep to plow, 30 campsites with electric hookups at the Pinnacle Campground will be open and can be reserved.
Taylor said this will also be the third winter the state park offers dog sled rides on its south shore.
Red Runner Dog Sled Tours, a company based in Milner, books the sled rides, he said.
Visitors can access Stagecoach State Park by following Routt County Road 14 to the park's main gate. Leave Steamboat on Colorado Highway 131 and head toward Oak Creek to access C.R. 14.
To use the trails or the lake, visitors must obtain a daily parks pass for $5 or an annual pass for $55.