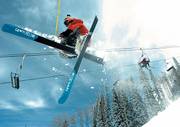 Winter VacationLand
Locals and visitors have no shortage of adjectives to describe the winter of 2005-06, when 431 inches of snow fell on Steamboat Ski Area.
"Epic," "wonderful" and "incredible" are some of the words you hear in conversations across Steamboat, as people reminisce about last winter and count down to this year's opening day, Nov. 22.
"The mountain is known for Champagne Powder, tree skiing and a wide-open mountain that offers pretty much something for everyone," said Mike Lane, director of public relations for Steamboat Ski Area.
Add that to the "friendliness and Western atmosphere of the town," and Steamboat Ski Area is hard to beat, Lane said.
The dry, light snow that piled deeper than 30 feet last year is known as Champagne Powder, a name that - according to legend - was coined in the valley by a rancher before the ski resort opened.
Today, the resort has 2,965 acres of terrain for skiers and riders of varying ages and abilities.
There are 164 named runs for more than 65 miles of fun, and the ski area has a vertical drop of nearly 3,700 feet. More than half the trails are considered best for intermediate skiers and snowboarders, about one-third are rated at an advanced level, and about 13 percent of the runs are for beginners.
Steamboat lifts open between 8:30 and 9 a.m., with the gondola taking its first passengers at 8:30 a.m. Many lifts stop service at 3:30 p.m.
Trails and lifts reflect the timelessness of Steamboat's Western tradition, famous Olympians and founding families.
Buddy's Run was named for Steamboat Olympian Buddy Werner, who was killed in an avalanche in Switzerland in 1964. Pioneer Ridge trails pay tribute to early settlers and resort pioneers with such runs as Fetcher Glade, Perry Park and Nash Junction.
The Olympic and ranching heritage combine to give the town a unique, authentic feel.
The ski area consists of Sunshine Peak, Storm Peak, Thunderhead Peak, Christie Peak and Mount Werner, which, at 10,568 feet, rises above the other summits.
The main ticket office is open daily from 8 a.m. to 5 p.m. Late ticket arrivals start at noon, and late-late arrival tickets start at 2:15 p.m.
Special events include the seventh annual Steamboat MusicFest from Jan. 4 to 9, which brings 18 bands featuring Texas and Americana music, and the Winter Carnival, a popular event in February filled with winter activities such as racing, ski jumping, parades and a spectacular night show.
"There is a variety of activities that draws a wide range of people up here," Lane said.
Vacationers can get the most bang for their buck with vacation packages through the resort that offer discounts on lift tickets and lodging. Opportunities to save almost half of lodging costs are available.
Mavericks Superpipe was added to the ski resort five years ago. At 650 feet, the superpipe is the longest in North America and has a 75-foot quarterpipe kicker at the end.
Skiers and boarders can find Mavericks in SoBeTerrain Park, where hips, tables, rails, mailboxes and a miniature version of the superpipe promise plenty of action. The outdoor sound system gives skiers and boarders the chance to show off their tricks while listening to popular songs.
Opening this winter is a new Sunshine Express lift, part of $7 million in capital improvements at the ski area this year. The lift will carry 2,400 passengers to Sunshine Peak every hour. The old Sunshine lift could handle a maximum of 1,800 passengers an hour.
Lane said the new lift will increase access to Sunshine Peak for novice or younger skiers.
"It's a great place for families to hang out," Lane said of the group of wide, intermediate trails commonly known as Sunshine Bowl. "You don 't see a lot of family terrain (at ski resorts) where you get to go all the way to the top of the mountain."