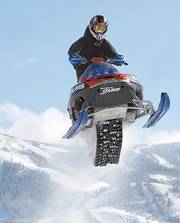 Winter VacationLand
Skis come in many forms, but some of the most popular ones in Northwest Colorado come attached to the bottom of a motorized vehicle.
"This area is outstanding (for snowmobiling)," said Bill Yowell, former president of the Routt Powder Riders snowmobile club. "This is a very popular area."
The trucks, trailers and motor homes that line the parking lots on Rabbit Ears Pass and Buffalo Pass throughout the winter are a testament to the joy of riding in the area's famed Champagne Powder.
To get to that deep backcountry powder, snowmobilers can use some of the 115 miles of groomed trails that Yowell's group regularly maintains in those areas, he said.
For beginners or riders without snowmobiles, the best bet for enjoying the sport may be a snowmobile tour, such as those offered by Steamboat Snowmobile Tours, which provides guided trips ranging from two hours to a full day, owner Marcia Cobb said.
Because of insurance costs, most snowmobile dealers do not rent machines to riders wanting to go out on their own, Cobb said.
"It's good to have a guide out here because we do have deep powder. : It's good to have somebody who's familiar with the area," she said, noting that riders who do not know an area or have little experience riding in powder risk getting lost or stuck.
Steamboat Snowmobile Tours excursions range from two hours to full-day trips, which are recommended only for experienced riders, Cobb said. The cost is $85 to $255 depending on the trip. Private tours are available for an additional fee.
Snowmobilers will enjoy about 15 to 60 miles of riding through varied terrain including groomed trails, open meadows and forests.
The company offers trips on Rabbit Ears Pass, in the Flat Tops area and in North Routt County off Seedhouse Road, Cobb said. Visit www.steamboatsnowmobile.com for more information.
Each tour averages about six snowmobiles and starts with safety orientations as well as tips on operating the machine and what to expect.
All the company's guides have first-responder emergency training in case of accidents, she said.
The company also offers dinner tours, which cost $125 a person.
To prepare for a day on a snow machine, snowmobilers should dress as they would for a cold day, and Cobb will supplement their attire with snowsuits, boots, helmets and other equipment, she said.
Snowmobilers curious about permitted riding areas should visit the U.S. Forest Service office, 925 Weiss Drive, across from the Holiday Inn in Steamboat Springs. Maps also are posted at trailheads.
The Forest Service has established and will enforce non-motorized areas on Rabbit Ears Pass, Forest Service recreation officer Rachel Franchina said. In general, motorized use is allowed on the east side of the pass. There also are trails on Buffalo Pass, where a free permit is required.
"All users need to have a permit, and these are free," Franchina said.
Permits are available at Dry Lake, Muddy Creek, Grizzly Creek and at the Forest Service Office.
Forest Service officials ask that motorized users also respect suggested use boundaries in North Routt County and other parts of the forest.
"It's to provide the experience all users are seeking," Franchina said.
For safety, Gary Eubank, owner of Extreme Power Sports in Steamboat Springs, emphasized the importance of making sure snowmobiles are in good shape mechanically. A lot of people, particularly from the eastern U.S., are used to having gas stations along snowmobile routes, something they definitely won't find in Steamboat's backcountry, he said.
"Once you leave your truck, you're on your own, so your sled needs to be serviced and ready to go," he said.
Eubank recommends carrying food, water, first-aid equipment, extra gas and maps, which also are available through snowmobile dealers.
Although cell phones can be helpful in some areas, reception is difficult in many parts of the backcountry, and the devices should not be counted on to get riders out of emergency situations, he said.