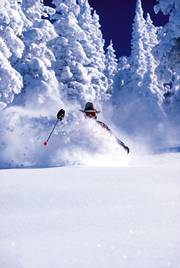 Winter VacationLand
There, surrounded by a mixture of adults, teens and children, stands Billy Kidd, one of America's first Olympic medalists in skiing.
It is approaching 1 p.m., and Steamboat's long-time director of skiing is standing in his trademark Stetson with pheasant feathers and a turquoise stud, offering words of advice to intermediate skiers, giving them the tools to one day be Olympic skiers as well.
And after taking one run down Heavenly Daze with Kidd, it's likely you will believe him. The 1964 Olympic slalom silver medalist and 1970 amateur and professional world champion is as natural a coach as he is a skier.
"I run through a sequence of steps to improve a person's skiing," Kidd said. "My clinic works for anyone who can ski a blue trail. In my half-hour clinic, I take people down Heavenly Daze, showing them what the best skiers in the world are doing right. Then I tell them, 'here's what you can borrow from these incredible skiers.'"
This winter marks Kidd's 36th year as director of skiing at Steamboat Ski Area, and one of his duties - though he willingly does it - is to offer a free skiing clinic for intermediate skiers looking for extra pointers.
The clinic, which he has been doing for nearly 30 years, was the idea of the late Doak Walker, a legendary football player and Steamboat Springs resident. Walker suggested Kidd lead the clinic as a way for visiting skiers to hear Kidd's stories about being an Olympic ski racer and what it was like to tour the world.
"It developed into a tip clinic - with a few stories thrown in for fun - and that's what I found people were really interested in," Kidd said.
Kidd hosts the clinic on an almost daily basis in all types of weather conditions.
If "Billy is skiing today" appears on the sign posted at the top of the gondola, skiers are encouraged to gather before 1 p.m. to ski with Kidd. On those runs, Kidd offers free advice on such ski-related topics as proper stance and pole plants. He also gives out-of-town guests tips on skiing in the famous Champagne Powder snow.
"For over three decades, Billy Kidd has shared his enthusiasm and love for the sport of skiing, and his home, Steamboat, to thousands of people during his free clinic," said Mike Lane, public relations director at the Steamboat Ski Area. "You will find few individuals who have given so much back to the sport as Billy, who continues to enjoy getting out on the hill nearly every day with guests."