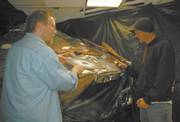 Steamboat Springs — With the lights on and the decorations not quite finished, Monson Hall didn't look so scary Thursday afternoon.
That will change tonight, Colorado Mountain College professor Jimmy Westlake warned.
The eighth annual "Screamboat Chamber of Horror" opens at 6 p.m. today in Monson Hall on the CMC campus.
Professors, college staff and students have worked for nearly a week to transform the college building into a haunted house of sorts.
"It's a big bonding event for us because a lot of the students are new this semester," Westlake said.
Admission to the CMC SKY Club's "Screamboat Chamber of Horror" costs $5 a person, and the proceeds from the five-day event go toward an endowed scholarship for science and engineering students at Alpine Campus. Alpine Bank matches the funds raised, Westlake said.
Last year, more than 1,000 people paid to be scared on Halloween weekend.
On Thursday, Monson Hall smelled like paint and looked more like a building under construction than a haunted house, but Westlake's guided tour was enough to intrigue.
"Here is where the tarot card reader will sit," Westlake said, pointing to an empty table and reminding a visitor that all the lights will be off.
"It gets really dark," he said.
Westlake walked in and out of rooms, pointing to a vampire's coffin, a crashed UFO and a seemingly harmless empty floor.
"That's going to be a cemetery with a piece of meat here and a werewolf," Westlake said, divulging as little information as possible.
The "Screamboat Chamber of Horror" will be open from 6 to 10 p.m. today through Tuesday.
The SKY Club has put on the haunted house for eight years, but this is its final year at Monson Hall, which is being turned from storage space into classrooms and offices. Westlake isn't sure where the haunted house will move next year. Those concerns will have to wait until after Tuesday.
"Come one, come all, but don't come alone," Westlake said.
Children 12 and younger must be accompanied by an adult to enter the haunted house. For more information, call Westlake at 870-4537.