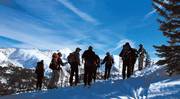 For more
Tenth Mountain Division Hut Association information is available at www.huts.org.
Winter VacationLand
A backcountry hut trip has become one of the most sought experiences in the Rocky Mountains for self-reliant outdoors enthusiasts who value solitude and are ready for a mild challenge. But you'll have to be on top of your calendar to book a trip at the hut of your choice.
Joining a group of friends to spend a couple of nights in a rustic log lodge on the edge of a remote wilderness is like no other backcountry adventure. Melting snow for drinking water on a wood stove, splitting wood for fuel, and watching the moon rise over dramatic peaks are all part of the experience. And in the right conditions, there can be amazing powder skiing for Telemark skiers. At the very least, backcountry hut adventurers will enjoy spectacular Nordic touring.
Many people experience their first hut trip by getting their names added to a trip that has been booked. People often drop out of trips because of scheduling conflicts. Their loss is your gain. The best strategy for booking your own hut trip is to join the Tenth Mountain Association, which manages a large number of the huts in the Central Colorado Rockies. The annual dues are $25. Membership allows skiers to take part in the lottery for winter hut trips, which takes place March 1 every year.
Members also may begin call-in reservations at the Tenth Mountain Association office on April 1. Non-members must wait until June 1.
The trailheads for the huts are close to towns such as Vail, Aspen and Leadville. The average fee is about $28 a person. The huts book up well in advance, and regular hut enthusiasts join the Tenth Mountain Association for annual dues of $25. Membership entitles them to make early reservations.
Unguided hut trips such as those made available through the nonprofit Tenth Mountain Division Hut Association are not for everyone. Traveling into the rugged mountains of Colorado on skis in winter demands hardy people who have some wilderness survival skills and knowledge. Ideally, every trip should be led by an experienced, self-reliant individual, or even better, several experienced people.
People who think they have the skill sets necessary for such a trip but are uncertain may want to contact a professional guide for their first experience. The hut association urges that each group includes among its members someone with leadership and first-aid skills. It is desirable for someone on the team to be skilled at using a map and compass to find a route. Avalanche awareness also is important.
Everything you need to know about planning a hut trip can be found at www.huts.org.
Reservations are difficult to come by, and skiing with a full backpack is arduous for many, but the rewards of a hut trip outweigh the temporary discomfort. Some aging baby boomers with access to snowmobiles have learned to shorten the slog by hitching a ride to within a mile or two of their huts, but the spirit of a hut trip calls for adventurers to pay a small price for their pleasure.
Colorado has many backcountry huts and yurts (round Asian-style tents with wooden floors and cook stoves). The best-known are those owned and/or managed by the Tenth Mountain Association. The word "huts" doesn't really do justice to these structures, which typically sleep up to 16 people and offer a pair of woodstoves and propane cooking surfaces. The "huts" in the system are all equipped with sleeping platforms and mattresses, firewood (all you have to do is split the kindling), picture windows, cold, but sturdy outhouses, and even games and books.
The typical route to a hut is six to seven miles long and climbs at least 1,500 feet in elevation beginning at a trailhead above 8,000 feet.
Not everyone who visits a backcountry hut is intent on making powder turns. Some arrive by snowshoe, and others are content to tour on sturdy cross-country skis.