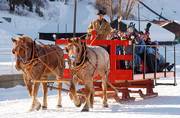 Winter VacationLand
Steamboat Springs prides itself on preserving its rich ranching heritage, and sleigh rides are a big part of that.
Sleigh rides used to be as functional as they were enchanting. Horse-driven sleighs were the historical mode of winter travel in the Yampa Valley, allowing ranchers to throw pitchforks of hay to waiting cattle, even in the deepest snow.
But times have changed, and some area ranches now look toward tourism to supplement their agricultural endeavors. Ranch sleighs are now loaded with aprÃs skiers instead of hay. Visitors get a chance to see much of the rural Yampa Valley landscape as they snuggle under warm blankets, listen to the draft horses breathing and look up at crystal clear Rocky Mountain skies.
The Steamboat Springs Chamber Resort Association lists seven sleigh-ride providers - offering something for every pocketbook and group size. If you've taken any of these sleigh rides in years past, be aware that prices at some locations have increased.
Elk River Guest Ranch
Dinner in a teepee
879-6220
$75 for adults; $60 for children 12 and younger
A driver will come to the door of your hotel or condo to take you the 21 miles to the Elk River Guest Ranch near Clark.
Guests are welcomed into the ranch's saloon with appetizers and cocktails before going out to the sleigh, where they are given a warm blanket.
"We actually put the blankets in the dryers first so they are really nice and hot," said Kathy Hinder, owner of Elk River Guest Ranch. "But the guest still needs to dress in layers, because it is winter and nighttime."
Dinner is served in the teepee, where you have a choice of steak, herb-roasted chicken, duck or salmon. After dinner, it's back on the sleigh and back to the saloon for after-dinner drinks, dessert and coffee.
"The ranch is in a canyon, and when the moon is up, you get these beautiful silhouettes from the mountains, and when going through the trees, you get to see all the shadows," Hinder said. "Being on a sled is really different than any type of transportation. You are really more involved in the forest and you can hear the horses and their jingle bells and see the steam coming off their backs. It's really neat."
Elk River Guest Ranch can also do private parties in the teepee, and it has a single sleigh for couples and engagements, for which champagne is included. The couple take off first and have at least 20 minutes to themselves before the other guests arrive at the teepee.
"We've had a 100 percent success rate with engagements so far," Hinder said.
Windwalker Tours
Close to Steamboat
879-8065
$75 for adults; $40 for children ages 6 to 12; $10 for children ages 2 to 5; free for children younger than 2.
This is the perfect tour for families with young kids because it is only six miles from Steamboat on Colorado Highway 131. Call the office to arrange a meeting spot.
Three things make this sleigh ride special, owner Kay Sullins said.
First, the sleigh ride follows the Yampa River.
"It's gorgeous out there," Sullins said. "Second, our food is delicious. We cook steaks and chicken over mesquite wood, and we have vegetable lasagna for vegetarians."
Live entertainment provided by Kenny Knapp completes the package. Knapp plays the fiddle, banjo and guitar, Sullins said. There is a dance floor in the log cabin where dinner is served.
"I think people like to take sleigh rides because it's something the whole family can do," Sullins said.
The whole experience takes about three hours. They have two rides a night - at 4:30 and 7:30 p.m. There also is an afternoon sleigh ride from 1 to 3 p.m. without dinner. The price for the afternoon sleigh rides is $50 for adults and $35 for children ages 6 to 12.
Saddleback Ranch Family atmosphere
879-3711
$70 for adults; $50 for children ages 6 to 12; $20 for children 5 and younger
Saddleback Ranch is owned by the Iacovetto family on Routt County Road 179, about 13 miles from Steamboat. Guests are picked up at their hotels or condos.
The sleigh ride lasts about 35 minutes and takes riders over rolling hills and up a canyon to a log cabin called The Bunkhouse.
"We give them hot chocolate or spiced cider as soon as they walk in and then feed them a good meal," Luanna Iacovetto said. Then the cowboys come in and show guests how to rope. The Saddleback Ranch is an 8,000-acre working ranch with between 1,500 and 1,700 cattle.
"People like our sleigh ride because it's all family-run," Iacovetto said. "We always try to give them a little more than what they expect, and we try to make them feel like family."
"We have fun with the people, and they make it fun for us."
Dutch Creek Guest Ranch
Star-filled nights near
Steamboat Lake
879-8519
$70 for adults; $50 for children 6 to 12; $10 for children 5 and younger.
Dutch Creek Guest Ranch is near Steamboat Lake and "away from city lights," owner John Hawes said. "It's the best place to see those star-filled nights."
Guests are picked up in a van at their hotel or condo and driven the 40 minutes toward Hahn's Peak and the ranch. The experience starts in the main lodge with hot chocolate or hot cider near the river-rock fireplace.
Everyone gets bundled up with blankets for the 30-minute sleigh ride.
The difference between the Dutch Creek sleigh ride and others offered in the area is the dining experience, Hawes said. Guests are offered a full menu selection with table service.
"Being able to order off the menu, that's what differentiates us," he said. "We only take smaller groups, and each group gets its own table. Those who book together have dinner together. We don't herd them in and out."
It's just like going out to dinner at a restaurant, he said, only you arrive on a sleigh.
Sunset Ranch
Oldest continuous sleigh ride operator in the valley
879-0954
$70 for adults; $40 for children 12 and younger; $10 for children 5 and younger; infants are free.
Sunset Ranch is one mile west of Steamboat Springs Airport on C.R. 44. It is easy to access from town, owner Patsy Wilhelm said.
Guests are picked up at the Gondola Transit Center or downtown by arrangement.
Once on the ranch, the sleigh ride follows the base of Deer Mountain to a stove-heated Army tent only accessible by sleigh.
The Sunset Ranch sleigh rides have been operating for more than 20 years, making it the longest continually operated sleigh ride in the valley, Wilhelm said.
The maximum group size is 50, except by special arrangement.
Dinner is served with homemade bread, baked on the ranch every day, she said.
The Wilhelms sold their cattle a few years ago, but they continue to run pack trips for fishing and hunting on the property, just as the family has since 1943.
"We only host one sleigh ride a night, so it's not rushed," Wilhelm said. "We stay until they are ready to go."
Big Rack Outfitters & Horseback Adventures
Offering daytime rides
871-1427
$75 for adults; $50 for children; ages 4 and younger are free.
Eric and Keri Hamilton operate Big Rack Horseback Adventures out of the historic Overlook Ranch 10 miles west of Steamboat. This is their seventh winter offering sleigh rides.
Guests are picked up at their hotel or condo and driven to the ranch. They try to keep groups small, averaging 20 people a night.
"The sleigh rides are great for adults and children, and it's family-run," Keri said. "And we serve awesome dinners restaurant-style."
The sleigh ride wanders through a wide-open meadow and through a little valley to a small cabin where dinner is served.
"We have a little dance floor and live entertainment," Eric said. "The cabin is rustic but warm and cozy."