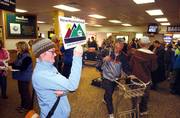 Yampa Valley Regional Airport is nearing completion of Phase II of an $18 million airport terminal expansion and the Fly Steamboat program is acting on that momentum with 15,000 new ski season seats into the valley.
The biggest news about the nonstop jet program is the inauguration of daily service form Atlanta on Delta Airlines. Steamboat has seen Saturday service on Delta's Boeing 737s for several years. Now, vacationers from the Southeastern U.S. will be able to board a 150-passenger 737-800 daily for the direct flight to Steamboat. Many others will connect through Atlanta after beginning their trips in Florida or elsewhere on the Atlantic seaboard.
The once daily flight from Atlanta will be conveniently backed up by flights from the Delta hub in Salt Lake City. Adding flexibility to that option is increased frequency this year. Previously served by a single daily 737, the Salt Lake route will now operate twice daily on 70-passenger CRJ-700 jets.
Steamboat Ski & Resort Corp. marketing executive Andy Wirth said the 75 percent load factor on ski season jets last winter helped Fly Steamboat take the big step to daily flights from Atlanta.
"Going forward, all of these changes significantly enhance accessibility to Steamboat, now making it a key differentiator," in the competitive ski resort industry, he said.
Yampa Valley Regional Airport Manager David Ruppel said the terminal expansion would help the facility keep pace with the resort's international reputation. The work, scheduled for completion by December, includes doubling the size of the terminal with an additional 23,000 square feet.
It's enough to allow creation of a spacious ticket lobby with more counter positions. Travelers will see an improved curbside check-in facility and a significantly expanded gate area with increased seating and twice the number of restrooms. There also will be a food and beverage service at the gate level.