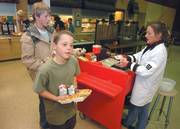 Steamboat Springs — Steamboat Springs Middle School, in conjunction with the school district's nutritional services department, will offer breakfast to its students beginning Nov. 6.
The new program is part of an effort to offer students healthier foods earlier in the day, Principal Tim Bishop said. Doing so should help students get a better start on the school day, he said. The middle school also will stop selling unhealthy snack items such as Pop-Tarts and doughnuts during the mid-morning snack break.
"I've been trying to establish a breakfast program here for several years," Bishop said. "I felt many kids were coming to school without having the time to eat a good breakfast before school. I could tell in the first hour of school they were tired. I asked them."
Offering breakfast will help parents, too, Bishop said.
"This is a cheap alternative when you're rushed in the morning," Bishop said. "Kids will get good food to fill them up and kick-start their morning. It's more of a meal and less of an a la carte type of thing."
The middle school still will have a five- to 10-minute mid-morning break, but students who want a snack will have to bring one from home.
"They won't be walked down to the cafeteria with the option to buy snacks," Bishop said.
Lunch begins at 11:10 a.m. and ends before 1 p.m. at the middle school.
Breakfast will be served from 7:50 to 8:20 a.m. each school day. The cost is $1.50 for students who typically would pay full price for lunch. Children who receive reduced-price lunches will pay 30 cents for breakfast. Students who receive free lunches will receive free breakfast.
The breakfast menu for Nov. 6 is french toast sticks with syrup or cereal with a bagel and cream cheese. Children also can have fresh fruit or juice. Other November breakfast items include breakfast pizza; bacon, egg and cheese biscuits; and potato triangles. Fruit and juice will be served daily.
"They have a number of choices each day, which is amazing to me," Bishop said. "We are excited about this opportunity."
Bishop pointed to research that indicates students are more attentive and learn more effectively when they eat breakfast.
The breakfast program is new to the district and is being offered only at the middle school. It will be drop-in, so students don't need to sit in the cafeteria for 30 minutes if they don't want to.
"There will be some hiccups, and it will be a challenge," Bishop said. "But we are going to do the best job we can."