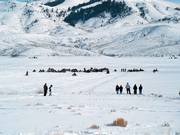 Winter VacationLand
It's unlikely that Rudolph Kremmling foresaw the tourism potential of the area when he opened a trading post on the north side of Muddy Creek in 1884.
But more than 100 years later, the town named after its first settler is a winter paradise for those who love the outdoors.
Kremmling, 50 miles east of Steamboat Springs at the juncture of U.S. Highway 40 and Colorado Highway 9, is in an ideal location for snowmobilers, skiers and other outdoor enthusiasts who enjoy winter activities.
Popular snowmobile areas such as Rabbit Ears Pass, Gore Pass, Spring Creek, Winter Park and Grand Lake are short drives away, and Kremmling's affordable lodging can make a dream vacation possible for those with tight budgets.
A variety of motels and bed-and-breakfasts include Bob's Western Motel, Cliffside Inn, River of Life Cabins, Williams Fork Lodging, Hotel Eastin and Grandma's House, a working ranch. A number of guest ranches and resorts are in the area surrounding Kremmling.
Grand Adventures offers visitors snowmobile rentals and guided tours, and Kremmling's Alpine Motor Sports is a full-service snowmobile shop.
Snowmobiling is far from the only winter opportunity for Kremmling visitors. Area trails offer unlimited snowshoe and cross-country skiing terrain.
Most of the trails in and around Kremmling are unused, Wright said, which makes for excellent non-motorized winter use.
"We have a lot of unused trails for snowshoeing and Nordic skiing," she said. "I think people are finding out about them, and they're definitely gaining in popularity."
Eight major ski resorts surround Kremmling, including Steamboat, Breckenridge, Keystone, Winter Park and Arapahoe Basin.
Kremmling has been famous the past eight years for its international dog sled racing, which is held in February. This year, there will be a new event for visitors to experience. Snowmobile Drag Racing is Jan. 27 and 28 at Wolford Reservoir.
"I think it will be pretty popular," said Kremmling Chamber of Commerce director Katrina Wright. "This is an event for all the snowmobilers in the area, and it's a good way to have some fun and try to win money."
The drag racing event will be divided into classes so that riders of all ages and abilities can participate.
Kremmling also hosts two ice-fishing contests each winter. The first, which takes place Jan. 13, is at Green Mountain Reservoir. The second contest is Feb. 17 at Wolford Mountain Reservoir.