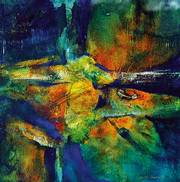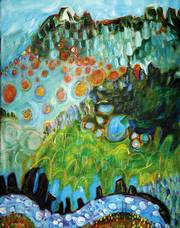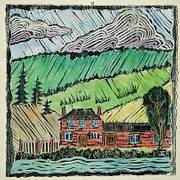 Steamboat Springs — One of Steamboat Springs' most prominent landmarks will be the poster child for the Steamboat Springs Arts Council's 35th anniversary.
The 35th anniversary is commonly referred to as the emerald anniversary. Coincidentally, Emerald Mountain is in the backyard of the Depot Art Center, which is home to the Steamboat Springs Arts Council. It made sense that the popular mountain be the inspiration for the 35th anniversary Poster Contest, said Beth Banning, visual arts director for the Arts Council.
"I thought it was perfect," she said.
About 15 people entered the contest, and the visual arts committee narrowed the choices to three. Only Steamboat Springs Arts Council members could enter the contest. The pieces were exhibited in the Baggage Room at the Depot during the opening gala for the Snapshots From Life exhibit Oct. 20. About 100 people attended the opening, and all attendees were encouraged to vote for their favorite piece. Voting continued during the weekend, and Lance Whitner's "Emerald Mountain" was chosen as the winner.
"I was absolutely thrilled," Whitner said. "It was wonderful."
Whitner has a bachelor's degree in fine arts from the University of Colorado at Boulder. She has lived in Steamboat for about five years, and she helped start the local Potters Guild. She said it was hard to find time to create art while raising three kids, but she is now getting back into it and became a Steamboat Springs Arts Council member six months ago.
"It's just been great to see the response from the community," Whitner said.
Her acrylic on canvas piece will be reproduced as a limited edition ink jet print on archival paper.
"It is kind of a feeling of Emerald Mountain," Whitner said. "I love color, so there is a lot of color in it."
The piece also will be made into a commemorative poster to advertise the 35th anniversary celebration.
"It's a great piece," Banning said. "It's a somewhat abstract interpretation."
The other finalists were "The Depot" by Dona Steele, and "Green Mountain" by Betty Jameson. Steele's piece is a hand-cut linoleum print using watercolor and colored pencil. Jameson's piece is a liquid acrylic.
"All three of them would have been good choices," Banning said.