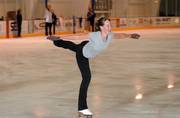 Winter VacationLand
Howelsen Ice Arena offers a variety of ice skating programs for locals and tourists.
Ice skating is growing in popularity, forcing directors to find ways to meet the demand for ice.
The quality of the ice and the fact that the arena is indoors with rental facilities on site makes Howelsen Ice Arena an ideal place for small or large groups to gather for public skates.
The arena offers classes in a group format designed to teach the basics, as well. Those learn-to-skate programs are held for parents and their toddlers, as well as adults and children from beginning to intermediate levels.
Skills taught include forward and backward skating, stopping, turning and crossovers. Intermediate skaters will learn the more advanced techniques of turning, power skating, spinning and jumping.
The timing of the classes is set to meet the needs of the participants best. For example, youth lessons will not be held during school hours. Children's lessons will not be held late at night.
Courtney Gill, programs director at Howelsen Ice Arena, also is actively involved in the Steamboat Springs Figure Skating Club. The club has two shows planned this season: a holiday ice show and a spring show.
The club skaters are planning to compete in out-of-town singles competitions and out-of-state synchronized skating team competitions.
The popularity of Team Volant, the synchronized skate team, prompted the creation of a mini-synchronized skate team for skaters ages 5 to 11, Gill said.