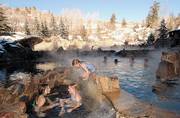 Winter VacationLand
The Strawberry Park Hot Springs has been a popular attraction for centuries.
First visited by Ute Indians, the hot springs has hosted visitors from around the world who come to recuperate after a hard day of skiing or just to relax in the peaceful and scenic atmosphere.
Strawberry Park Hot Springs is seven miles from downtown Steamboat. It features a mixture of mineral springs and gardens.
The main attraction is the hot springs. Three pools not controlled are divided by stone walls with five waterfalls flowing from one pool to the next. The temperature is controlled through rustic gates that regulate how much cool creek water comes into the hot springs.
The largest hot pool is kept at about 104 degrees. The next pool is slightly smaller and cooler. The creek cell is larger than both of the other cells and is a comfortable contrast to the hot pools. Visitors can find coveted warm spots is these.
The hot springs also house warm changing areas and picnic areas.
Another private pool is used for watsu - warm water massages. The facility also offers Swedish massages and side-by-side massages for two.
Improvements have been made to the hot springs. A new bathhouse with stone, wood and many windows lies near the trail. A caretakers cabin and a new bathhouse are under construction.
In the winter, the hot springs offers overnight cabin rentals. The most popular accommodation is the train caboose, which can sleep four.
The steep dirt road makes getting to the hot springs tricky in the winter, and from Nov. 1 to May 1 it is illegal to drive the last two miles without a four-wheel drive vehicle with snow tires or a two-wheel drive vehicle with chains. A lower parking lot, at the two-mile marker from the hot springs, is rarely closed to traffic.
The Routt County Sheriff's Office fines and tickets anyone who gets stuck on the road and blocks traffic.
The shuttle services Sweet Pea Tours and Wind Walker Tours are available to take visitors to the hot springs.
It is recommended that visitors bring water to prevent dehydration. Also, night visitors should bring flashlights for the walk down to the hot springs.
Admission into the hot springs is from 10 a.m. to 9:30 p.m. Sunday through Thursday and 10 a.m. to 10:30 p.m. Friday and Saturday. No one under 18 is allowed in the hot springs after dark, when clothing is optional.
The cost is $10 for adults ages 18 and older, $5 for teenagers ages 13 to 17 and $3 for children ages 3 to 12. There is no admission for children younger than 3.