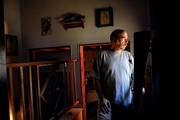 Bed and breakfasts in Northwest Colorado
Alpine Rose Bed and Breakfast, 724 Grand St., Steamboat Springs, 879-1528
The Brick House, 687 Garfield, Meeker, 878-5055
4 Queens Motel, 206 E. Main, Rangely, 675-5035
K Bar T House, 4160 County Road 8, Meeker, 878-4881
Mariposa Bed and Breakfast, 855 Grand, Steamboat Springs, 879-1467 or (800) 578-1467
Rambulin Bed and Breakfast, 789 Eighth Street, Meeker, 878-5482
Taylor Street Bed and Breakfast, 403 Taylor, Craig, 824-5866
Valleyview Lodge, 981 Eighth St., Meeker, 878-9808.
Williams Fork Lodge, 17559 Highway 13, 826-0339
If it's a home away from home out-of-town visitors seek, then the folks at Taylor Street Bed and Breakfast have just the accommodations to suit their needs.
"Our main goal is just to offer a place like their own home," said Gary Cook, owner and operator of the cozy, eight-room lodge at 403 Taylor St. in Craig. "Instead of staying at a motel, this is more like the bedroom of your own house."
The 5,400-square-foot Taylor Street Bed and Breakfast, which recently celebrated its ninth year, offers visitors eight rooms with various decor, ranging from a fishing-themed room to a sunflower room. The cost for two people is $80 a night; it costs one person $50 a night. The rates include breakfast.
And true to the Taylor Street philosophy, the breakfast menu features a variety of home-cooked items.
"It's anything from bacon and eggs to omelets to casseroles to waffles," Cook said. "Basically things you'd have for breakfast back home."
Winter VacationLand
Taylor Street Bed and Breakfast is open seven days a week until 10 p.m. Reservations are accepted but not required.
Taylor Street Bed and Breakfast is just one of several options for out-of-towners looking for cozy, home-like accommodations in Northwest Colorado. There are similar establishments in Craig, Meeker and Steamboat Springs.
One of the longest standing lodges in the area is the historic Meeker Hotel and Cafe, which has been operating for more than 100 years. The building was converted from a barracks in 1883, and the hotel was established three years later.
Its guests have included notable visitors such as President Theodore Roosevelt and outlaw Billy the Kid. The hotel is listed on the National Register of Historical Places.
The lobby of the hotel pays homage to historic figures such as Roosevelt with biographies of some of the people who have stayed there.
The Meeker Hotel offers 24 rooms decorated with "a blend of modern and period furnishings," according to hotel management. Rooms vary from two-room suites, priced from $85 to $140, and economy rooms, priced from $55 to $65 a night.
For more information about the Meeker Hotel, visit the hotel's Web site, www.themeekerhotel.com. To make reservations, call (970) 878-5255 or e-mail mkrhotel@quik.com.