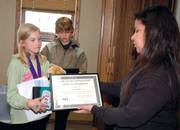 Steamboat Springs — Lena Barker, 10, remained calm and remembered what she had been taught - she called 911.
Lena's emergency call last December helped saved the life of her older brother Jake, 12, who was stuck head-first in deep snow and no longer breathing after a skiing accident near their Steamboat home.
Lena's quick actions prompted officials with the Association of Public Safety Communications Officials, National Emergency Number Association and the Routt County Communications Department to honor her Thursday with the 2006 911 Hero Award. Lena was one of a half-dozen Coloradans to receive the award this year.
"I feel like I saved my brother's life, and that's pretty cool," Lena said.
Lena's call was made two days before Christmas after Jake landed face-first into a mound of snow he built. Jake is a trained ski jumper who has landed jumps off the K-90 at Howelsen Hill. No one worried about his ability to land the homemade jump.
But after missing the landing, Jake was buried to his waist in snow, couldn't move his arms or body and was running out of air.
Lena quickly realized her brother wasn't breathing and rushed inside to call 911.
Officials said she accurately and calmly explained the situation to dispatchers.
Faith Mendoza, director of Routt County Communications, said Lena did an exemplary job in an emergency situation.
"She was very calm. She had all the information we needed about who her parents were, where she lived, how to get there, what the problem was and in what condition her brother was in," she said. "While her mother (Jill Barker) was trying to dig Jake out of the snow, Lena was in the house doing her part."
Jake did not sustain any injuries as a result of the accident.
Jim Barker, Lena's father, was brought to tears as he watched his daughter receive the award Thursday.
"Reliving the whole thing was pretty tough. It's amazing what she did. We're very proud of her and (friend Lesley Wilson)," he said. "Everyone acted like little professionals. They knew just what to do."
Mendoza praised Lena's quick thinking and competence. She also stressed that parents teach their children basic information that can help rescuers in emergency situations.
"The interesting thing is that if you ask a small child what mom and dad's name is, they'll say, 'Mom and dad.' But it's important that parents teach their kids their names, their addresses and their cell phone numbers," Mendoza said.
Parents often underestimate a young child's ability to remember an address or directions, Mendoza said.
"You'd be amazed at how many times a kid has picked up a phone and saved someone's life in this county. They can be very cognizant of what is going on around them and where they're at," she said.
Mendoza urged parents to teach their children how to identify emergency situations, how to handle such situations, and how to dial 911, even if it means practicing on an unplugged phone or play phone.
"What it comes down to is the Barkers had a great Christmas when it could have turned out much differently if Lena didn't act as she did," she said.