Scott Stanford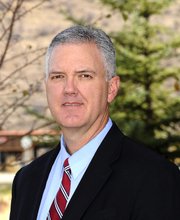 Scott Stanford is general manager of the Steamboat Pilot & Today. Call him at 970-871-4202 or email
sstanford@SteamboatToday.com
One of the most important services we provide is the "Happenings," our daily listing of events in and around Steamboat Springs.
We probably get more submissions for and questions about Happenings than anything else we do. I thought I would take a few minutes to explain Happenings and how the calendar works. Following are some of the guidelines in getting information into Happenings.
- The best way to get your event listed in Happenings is to e-mail happenings@steamboatpilot.com. Faxes and mailings also work, but there is greater risk of the event being overlooked or missed. We do not take happenings events over the phone because of the risk of error. It's always good to have a hard copy.
- All events e-mailed to happenings@steamboatpilot.com get added to our online calendar of events.
- We get a lot of requests to run an event "four or five times" during the week. We cannot accommodate such requests. Happenings items are kept in a running, chronological log that is updated daily. Our copy editors run as many events as will fit - usually that's about two days' worth. So, if you submit a Happenings item, count on it running the day before and the day of the event. If your event gets a third day of exposure, consider yourself lucky. Wednesdays and Thursdays tend to be the busiest days of the week, and events for those days often will run only on the day of the event.
- Happenings is not the place to list registration deadlines for events.
- Read Happenings. You will notice a formula to the entries. Generally, everything is in this order: time, date and place. Morning times are written as "a.m." and evening times are written as "p.m." It would be a great thing if those who submitted Happenings items used this same formula.
- We do not use exclamation points, colored text, all caps or other features you can insert in a Word document or e-mail in our Happenings listings. Please refrain from using these features when you submit an item to us.
- Calendar items should be short - 50 words or fewer. If you submit a 300-word calendar listing, we're going to edit it to 50 or fewer words. That means we're going to decide what the most important information is. If you keep it short, you have more control over what goes into the newspaper.
- Tell us where your event is. If the location is a secret, then the event probably doesn't belong in a newspaper read by 20,000 people every day.
- Pricing information is vital. Tell us how much tickets cost. Nothing irritates readers more than showing up at an event they thought was free and finding out they need a $10 ticket.
- All Happenings events should be of broad community interest. Almost all nonprofit events get into Happenings. Some for-profit events - concerts, sporting events, etc. - also are appropriate. But costly course and sales events at specific stores are not appropriate. If an event looks like it should be a paid advertisement, it's probably not going to get a free Happenings listing.
- Always give a contact name and phone number.
- City Editor Brent Boyer is responsible for Happenings. His number is 871-4233. Brent works Tuesdays through Saturdays, so I take care of Happenings on Mondays. Submissions sent Saturday afternoon or Sunday most likely will not be received in time for Monday's paper.
Happenings is a great place to promote your community event. Following these guidelines will help us get your event in quickly and accurately. As always, if you have any questions or comments, please give me a call.