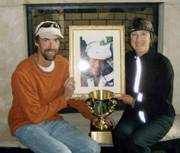 Steamboat Springs — At the start of the local golf season, 64 men and 16 women began a quest to add their names to the Steiner Cup.
After a summer of golf, Andy Keyek and Anne Mayberry rose to the top of the field and earned the right to have their names engraved on the Cup, which was named in honor of Vic Steiner, a longtime Steamboat resident who was a ranger at Haymaker Golf Course until losing a battle with cancer in October 2000.
"Vic Steiner was one of my favorite people," Haymaker head golf professional Hank Franks said. "He gave so much to so many people."
Golf was one of Steiner's passions, as were skiing and acting. He was a regular in the match play tournament at Haymaker.
"He would absolutely love having this tournament named after him," said Holly Steiner, Vic's widow. "He had a passion for the game, and for people."
To win the Steiner Cup, golfers must work their way through a series of one-on-one matches over the course of the summer. Golfers who win their matches compete in the winner's bracket. Golfers who lose one match fall into a secondary flight that allows them to keep playing. Players in the second flight can't win the overall title, but they still are eligible for top prizes.
A second loss eliminates a golfer from the tournament. The golfer who goes undefeated through the entire summer is crowned champion and has his and her name added to the trophy.
A few years ago, Franks suggested naming the tournament in honor of Steiner. The golf committee made the change official this year.
"I think it's wonderful for Vic's memory and for his family," Holly Steiner said.
Keyek won six straight matches en route to winning this year's event. In September, he topped John Vanderbloemen in the final match of the summer. Tom Houk defeated Jan Curlee to pocket the secondary flight title.
In the women's division, Anne Mayberry defeated Loraine Hopp for the title. Barb Simms defeated Barbara Clark in the women's consolation flight.
It was the third year Keyek has entered the tournament and his first time winning it.
"I guess I really just wanted my name on a trophy," Keyek said with a chuckle. "I'm just kidding. This tournament is a lot of fun. Everyone who enters has a chance to win this, and I think that's what makes it so much fun."
- To reach John F. Russell call 871-4209 or e-mail jrussell@steamboatpilot.com