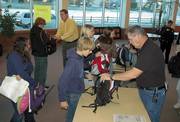 Steamboat Springs — Attendance at Steamboat Springs High School was down "a little" Wednesday, but the building, which received a bomb threat warning of a Wednesday detonation, is safe and secure, principal Mike Knezevich said.
Knezevich said all students with a parent who works at the high school came to classes Wednesday, which Knezevich said spoke to the safety of the building.
"It's a very safe school," he said. "As I've told people, this school has been, after this week, safer than probably any time in the last eight years."
A statement warning of a Wednesday bomb threat was found at 7 a.m. Friday in a high school bathroom. Another statement was found Monday, but it was a reminder of the Wednesday threat. It was not a new bomb threat.
School has been in session since the original statement was found Friday, but precautions were put in place to ensure the safety of high school students and staff this week.
Bomb dogs have gone through the high school on several occasions and went through again Wednesday morning before school. Nothing suspicious has been found, Knezevich said.
Officers from the Steamboat Springs Police Department have increased their presence at the school and have been patrolling the area or hallways since Friday. They will remain in the building through the week.
Students' backpacks and bags also will continue to be searched as a safety precaution, Knezevich said.
All guests, teachers and students are entering the high school through the main set of doors.
"We are trying to maintain the (integrity) of the building," Knezevich said. "We have that now, and we are trying to keep that as much as we can for the week."