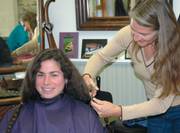 Steamboat Springs — Jodi Bringuel sat down with a smile and hair that nearly touched her waist.
When she stood up not more than 15 minutes later, Bringuel still wore her smile. But her hair was shoulder-length.
On Monday, Bringuel donated 10 to 12 inches of hair to Locks of Love, a nonprofit organization that provides hairpieces to financially disadvantaged children suffering from long-term medical hair loss, according to its Web site.
It was the third time Bringuel has donated her hair to Locks of Love.
"This time I wasn't thinking about it, but it was growing so fast," Bringuel said.
October is breast cancer awareness month, so Bringuel thought this month was the perfect time to make a donation to Locks of Love. She scheduled an appointment with Mary Melius at Hair Etc.
"It's something easy to do," Bringuel said.
Melius offers free hair cuts to people who subsequently donate their ponytails or braids to Locks of Love.
"If they give it, so will I," Melius said.
Melius and colleague Susan Clapper are breast cancer survivors who appreciate donations such as the one Bringuel made Monday, but neither Melius nor Clapper talks much about cancer anymore.
Melius has been in remission for five years. Clapper has been in remission for nearly seven years.
"We don't need to do that again," Melius said.
Melius estimates that nearly two dozen people have asked her to cut off their hair for Locks of Love.
Anyone who has gone from two or three feet of hair to a short bob knows how difficult the mental block can be, but Melius said she helps her clients through it.
For one, she works quickly, so people don't change their minds, she joked.
"I've never had tears," she said.
Donations to Locks of Love must be at least 10 inches long. Hair should be clean, dry and bundled in a ponytail or braid.
Hair should be sent in a plastic bag inside a padded envelope. After that, it's easy.
"You just mail it," said Melius, who handed Bringuel a pile of ponytails and braids after Bringuel volunteered to send all the hair in.
Locks of Love needs hair of all colors from men and women of all ages and ethnicities. Hair can be colored or permed, the Web site said, but it can't be bleached or chemically damaged.