Tom Ross
Tom Ross' column appears in Steamboat Today. Contact him at 970-871-4205 or tross@SteamboatToday.com.
Find more columns by Tom here.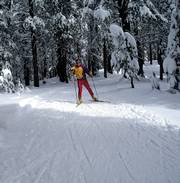 Perhaps it was a mirage. The big temperature sign on the Wells Fargo Bank in downtown Steamboat Springs read "60 F" on Monday afternoon. But I would swear I spent Sunday morning skiing in excellent conditions 15 miles away on Rabbit Ears Pass.
It's true. Ski season is under way in the 'Boat. There is great Nordic skiing to be had on the shaded loops of Bruce's Trail in the Routt National Forest.
"It's awesome," Birgitta Lindgren said. "It's mid-winter."
Lindgren is the proprietor of the Steamboat Ski Touring Center. Grooming and skiing at Bruce's are taking place under the auspices of a permit she has held with the U.S. Forest Service for many winters. Lindgren is working closely with the Steamboat Springs Nordic Council. Volunteers with the council consulted with the Forest Service this fall and removed fallen trees from the trails so everything would be ready when the snow arrived.
It has arrived in Steamboat and elsewhere in the Rockies. The Nordic skiing Web page fasterskier.com reported groomed trails in West Yellowstone and Bozeman, Mont., as well as on Kebler Pass just west of Crested Butte. Even skiers in Lake Placid, N.Y., got in some token skiing on 4 inches of wet snow.
The Touring Center is alternating with volunteers like Pat Arnone and Hugh Newton this year to step up the grooming on Bruce's Trail. The goal is to put down some fresh corduroy every time it snows. Here's the best part - if you visit www.steamboatxcski.org you can sign up for free grooming reports via e-mail.
You have my permission. Any time it snows 4 inches and you receive a grooming report in your e-mail in-basket, you're free to jump out of work for a two-hour lunch and a quick 6 kilometers on Rabbit Ears.
The trails were groomed twice during the weekend after twin pulses of winter coated the evergreen trees with white and left about 20 inches of snow in the forest.
When word got out, the parking lot at Bruce's quickly filled up with 29 cars.
Early season skiing on Bruce's is always as much a social scene as the Nordic community reconnects for another season. Sure, there are hardcore athletes putting in their first interval training session of the autumn on skis. There also are young families towing babies in ski sleds and pushing toddlers in snow saucers up the moderate hill that leads from the parking lot to the ski trails.
Alex Miller, a member of the U.S. Nordic Combined Team, said he and several teammates hit Bruce's hard Thursday through Saturday.
However, you don't have to be a future Olympian to feel welcome on Bruce's Trail. There are many folks on ancient touring equipment, leather Telemark boots and snowshoes.
Bruce's is an egalitarian skiing opportunity - everyone exchanges friendly waves no matter where they are on the Nordic spectrum.
Bruce's was built more than a decade ago as a memorial to Bruce Ablin, who died in a bicycle accident in Steamboat in 1992.
Dave Mark, a marathon skier and friend of Ablin's, knew there was a need for early season training, and with the help of other volunteers and the U.S. Forest Service, put together an ideal facility.
Bruce's twin loops are 4.3 kilometers of rolling terrain hidden from the voracious rays of the sun on north-facing slopes in the timber.
Building Bruce's was no haphazard project. The trails are fully engineered roads that have stood the test of time.
The length of the season on Bruce's varies widely from year to year - some years, when the snow arrives late, but buries the valley in white once it finally comes, Bruce's barely gets used. Other winters, it's the difference between skiing and no skiing for five weeks spanning October and November.
Once there is sufficient snow in the valley for the touring centers to open, grooming on Rabbit Ears will cease for the winter.
Prime time on Bruce's Trail is right now. Get up there and make the most of it.